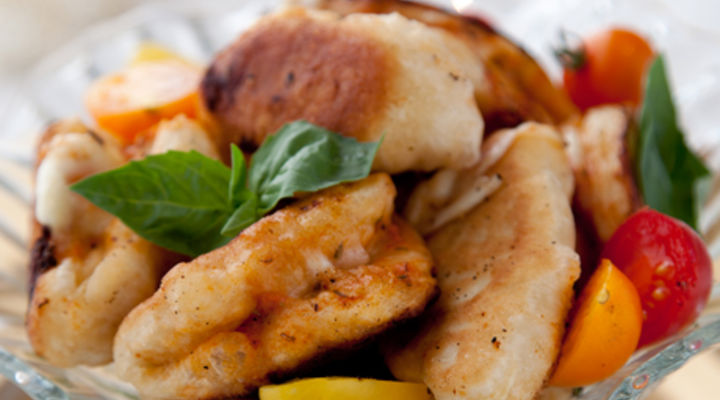 RECIPE OVERVIEW
A beautiful meal to enjoy any night of the week!
2

-

Mozzarella Cheese Balls

sliced

2

tbsp

SuperValu Fresh Basil

finely chopped plus extra to garnish

12

g

SuperValu Fresh Breadcrumbs

1

dstspn

SuperValu Olive Oil

1

dstspn

SuperValu Sunflower Oil

400

g

SuperValu Tomato Purée
Method
Add the plain fl our, yeast and salt to a large mixing bowl. Mix the lukewarm water and the olive oil together and add to the fl our. Mix the dough thoroughly, then turn it out onto a lightly floured surface and knead for 4 to 5 minutes, until it feels light and springy.
Transfer the dough to a large, clean bowl and cover well. Leave it to rise in a warm, draught-free place for 30 to 40 minutes, until the dough has doubled in size.
After the fi rst rising, knock back the dough and shape it into a long loaf. Divide into 10 pieces and shape into balls that are 4cm in diameter. Roll out each of the balls on a lightly fl oured surface until they are 2mm to 3mm thick.
Place a spoonful of tomato sauce into the centre of each circle. Sprinkle with fresh basil, salt and pepper, then cover with some of the mozzarella. Lightly moisten the edges with water and pinch to seal into a half-moon shape.
Heat the sunfl ower oil in a pan over a medium heat. Fry the panzarotti in batches until golden brown, then drain well on paper towels and serve hot, garnished with fresh basil leaves.
Be the first to add a review.