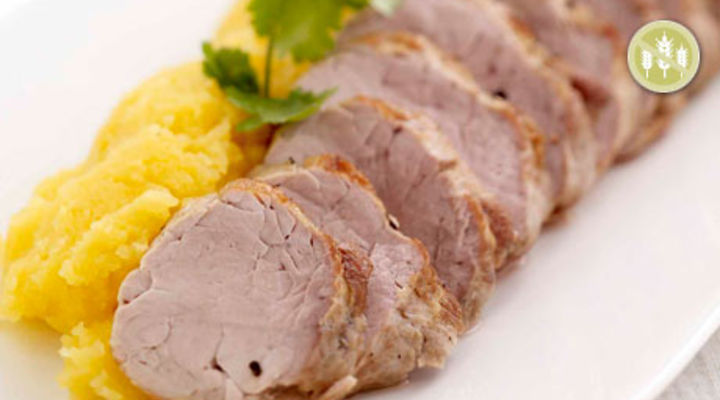 RECIPE OVERVIEW
This makes a great Sunday lunch option and can make for very attractive presentation.
Method
Preheat the oven to 180°C/350°F/Gas Mark 4.
Heat a large frying pan with 25g butter and a little oil.
Trim any excess fat and sinew off the pork steak and season with some salt and pepper and the dried mixed herbs, quickly seal the pork all over.
Transfer the pork to a large casserole dish or baking tray.
Next pour 75ml chicken stock onto the frying pan and allow this to bubble up.
Pour this over the pork and pop it into the oven for 40-45 minutes.
Pureed Swede
Place the diced swede into a large saucepan of water and bring to the boil.
Simmer until the swede is tender and then strain off the water, add 25g of butter and secure a tightly fitting lid and allow to steam.
Transfer the entire mixture to a food processor and blitz until a smooth consistency has been achieved.
Return to the saucepan and stir over a gentle heat for a further minute or two until the mixture is piping hot.
Season as required.
Boulangere Potatoes
Peel and thinly slice the potatoes using either a sharp knife or a food processor.
On a large pan quickly fry the onion and chopped garlic (if using) together in a little olive oil for 3-4 minutes.
In a large ovenproof dish start to layer the potatoes.
Divide the onions and garlic (if using) between each alternative layers of potatoes, ensuring the top is a layer of potatoes.
Pour 350ml boiling chicken stock over the potatoes until they are two thirds covered.
Then brush the top of the potatoes with 50g melted butter.
Bake uncovered for up to 1 hour at 180°C/350°F/Gas Mark 4.
Check Coeliac Society of Ireland
Food List
for gluten free brands.
Be the first to add a review.