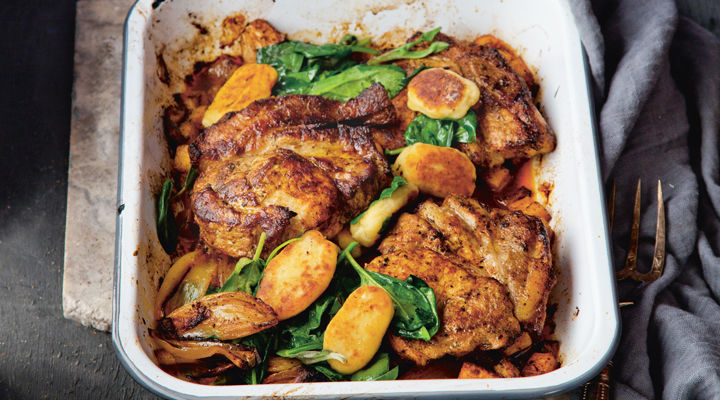 RECIPE OVERVIEW
If you're stuck for time or even space in the kitchen, this dish can be cooked in the oven at 200°C/gas mark 6 for 20 minutes instead of using a pan on the hob.
80

g

SuperValu Baby Spinach

2

tbsp

SuperValu Fresh Sage

finely chopped

500

g

SuperValu Pumpkin

or butternut squash, peeled, deseeded and cut into 2cm cubes

4

-

SuperValu Quality Irish Pork Chops

1

tbsp

SuperValu Smoked Paprika
Method
Put the pork chops, pumpkin, shallots and garlic in a large bowl. Drizzle with the oil and sprinkle with the smoked paprika, dried mixed herbs and some salt and pepper. Toss to coat.
Heat a large sauté pan over a medium-high heat. Add the pork and pumpkin mixture and sear the chops and vegetables. Reduce the heat to medium and continue to fry for 15 minutes, turning once, until the pork chops are golden and cooked through and the pumpkin and shallots are soft.
A few minutes before serving, bring a large pot of salted water to the boil. Add the gnocchi and cook according to the packet directions, until the gnocchi floats to the surface of the water. Lift the gnocchi out of the water with a slotted spoon and add to the frying pan with the cooked pork chops and pumpkin. Cook for about 30 seconds before adding the spinach, butter and sage. Gently stir for 2 minutes, until the gnocchi are coated in the pan sauce and the spinach has wilted.
Divide between four plates or shallow bowls and serve immediately.
Be the first to add a review.