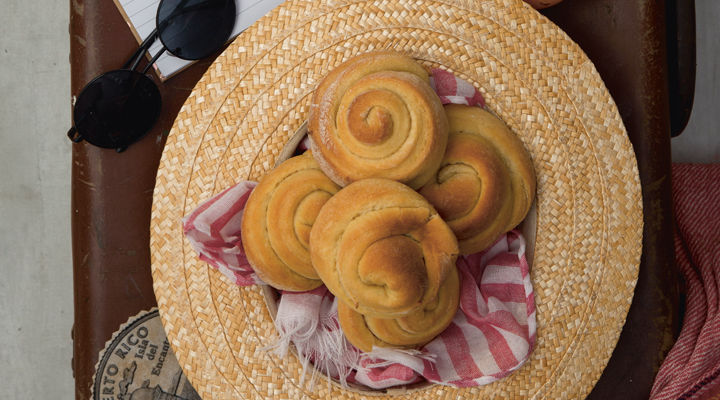 RECIPE OVERVIEW
Pan de Mallorca are light, sweet bread rolls from Puerto Rico, popular for breakfast and throughout the day. They get their name from a similar bread found on the Spanish island of Majorca.
4

tbsp

Apricot Jam

to serve

115

g

Butter

melted, plus extra for brushing
Method
Put the tepid water and yeast in a large mixing bowl, mix together and set aside. The yeast should dissolve and activate in about 5 minutes. Add the milk, melted butter, sugar, egg yolks, salt and vanilla, whisking lightly to combine.
The next step is best done with a dough hook on a food mixer, but you can do it by hand too. Add the flour and knead until it just comes together into a dough. If making by hand, mix with a wooden spoon to begin and then knead by hand. Add a little extra flour if it's very sticky, but it should be quite 'gloopy' rather than dry.
Place a clean damp cloth over the dough and allow to rise in a warm place for about 2 hours, until the dough has doubled in volume. Punch the dough down and knead again for a couple of minutes. This is called knocking back and it will shrink in size. Refrigerate for 2 hours or overnight. If you're stuck for time you can leave out the chilling step, but the chilling does makes the dough easier to handle.
Roll the dough out into a rectangle about 5mm thick. Using a little extra melted butter, brush the top and then make eight long strips of dough using a sharp knife. Each strip will be the individual bun that you make by twisting the strip into a circular shape, then slipping the end underneath the bun.
Put the individual buns on a baking tray lined with non-stick baking paper and leave to rise for about 45 minutes.
Preheat the oven to 170°C/gas mark 3.
Bake the buns in the oven for 12 to 18 minutes, until they are lightly browned. Leave to cool. Serve with apricot jam.
Be the first to add a review.