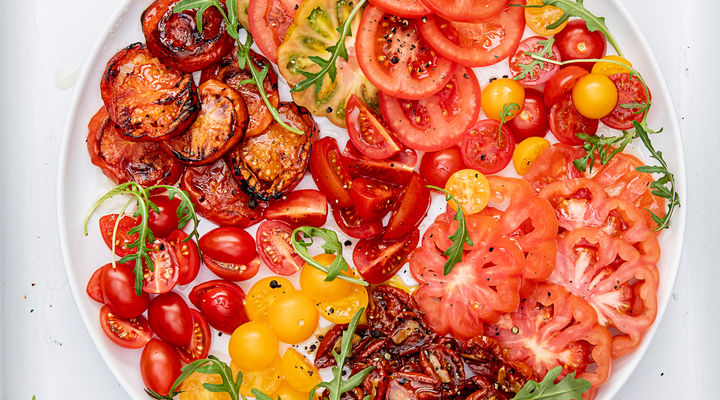 RECIPE OVERVIEW
A colourful salad that will be a great addition to any BBQ.
Method
Throw caution to the wind and make you own recipe by using SuperValu's bright range of tomatoes as an inspiration. From plum to vine to yellow and heirloom, there's a multitude of tomato flavours to explore.
Why not try using San Mazzo Mini Plum Tomatoes, Angelle and Bambelo Plum Tomatoes,Flavorita Vine Tomatoes, Irish Piccolo Cherry Vine Tomatoes or Irish Sunstream Plum Vine Tomatoes.
1. Roughly one handful is a single side salad and two or
three handfuls is a more substantial main course portion.
2. The beauty of this salad is the contrast of uncooked and cooked tomatoes of different colours and sizes. Divide your tomatoes in half so that you have an even amount of each variety.
3. You will be cooking half and keeping half raw. Cut some in half and leave smaller ones whole, but don't be too fussy
about this. Just make sure there's a good mix of cut and uncut.
4. Oven-roast half the tomatoes with a drizzle of olive oil and salt and pepper at 180°C/gas mark 4 for 30 minutes. When done, allow to cool completely, making sure to keep the juices.
5. Combine the raw tomatoes and the cooked ones, along with their juices, on a wide platter. Dress with a little extra virgin olive oil, rocket and fresh herbs. This is ideal as a light lunch with crusty bread to soak up the tomato juices and oil. This also works well with roasts or grilled meats and fish.
Be the first to add a review.