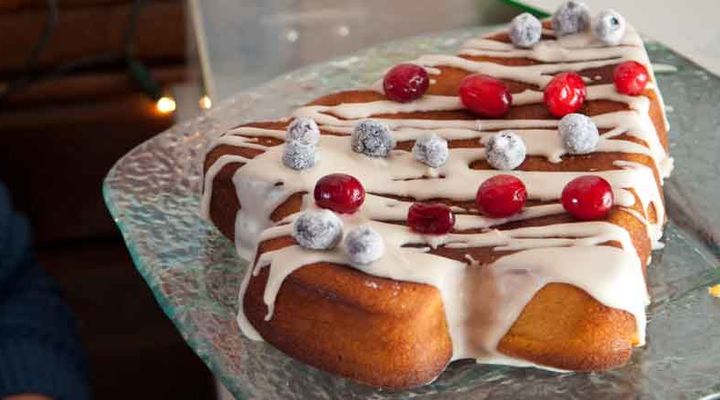 2

sachet

Mulled Wine Spice

250

g

SuperValu Ground Almonds

300

g

SuperValu Icing Sugar
Method
To make the decoration, lightly whisk the egg white to break up any albumen strands. Arrange three plates: one with egg white, one with caster sugar and one with berries. Individually roll each berry in egg white, then caster sugar. Set the sugared berries on a plate and leave to dry for 4 hours or preferably overnight.
Put the whole tangerines in a pan with some cold water and the mulled wine spices. Bring to the boil and cook for 1 hour. Drain and reserve the liquid (discard the sachets). When cool enough to handle, cut each tangerine in half and remove the pips. Blitz the cooked tangerines, skin and all, in a blender until smooth.
Preheat the oven to 180°C/gas mark 4. Butter 12 large ramekins, one 20cm round cake tin or one Christmas tree tin.
Add the eggs, ground almonds, sugar, olive oil and baking powder to the blender and blitz until well mixed. Pour the batter into the prepared ramekins or tin. Bake for 17 minutes or 40 minutes for one large cake. Remove from the oven and leave to cool in the ramekins or tin.
Sift the icing sugar into a large bowl and beat in enough of the tangerine cooking liquid (about 3 tablespoons) to form a paste that is the consistency of double cream. Drizzle the icing over the cooled cake and top with the sugared fruits.
This cake will keep for a week, but the sugared fruits should be eaten within three or four days.
Be the first to add a review.