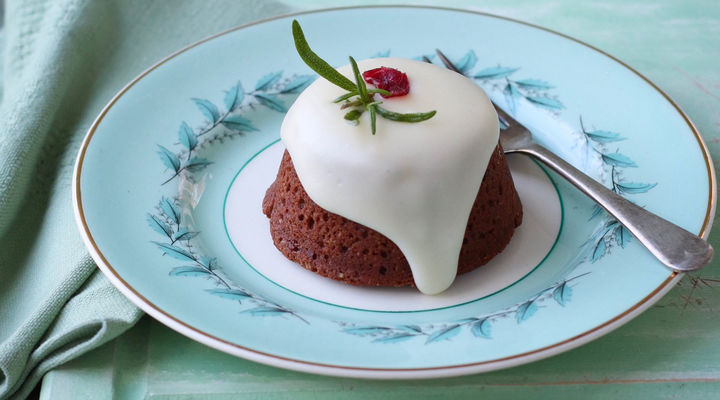 RECIPE OVERVIEW
These little puds are an ideal treat to have with a cuppa or as an after-dinner dessert with family or friends. They are very simple to make but with impressive results. Extra puddings can be frozen (before adding the frosting) for use another time. The cut offs can be used for a trifle, in a cake pop recipe, crumbled over yoghurt and fruit as a treat or simply devoured as the cooks treat. Try them sandwiched together with vanilla frosting in middle.
1

tsp

SuperValu Almond Essence

150

g

SuperValu Caster Sugar

100

g

SuperValu Ground Almonds

175

g

SuperValu Self-Raising Flour

100

g

SuperValu Signature Tastes Milk Chocolate

or dark chocolate

100

fillets

SuperValu Sour Cream

150

g

SuperValu Unsalted Butter

Plus extra for greasing
To Decorate:
12

-

SuperValu Dried Cranberries

12

-

SuperValu Fresh Rosemary

tiny sprigs

400

g

SuperValu Vanilla Frosting
Method
1. Preheat the oven to 190C (fan 170C), 375F, Gas Mark 5.  Grease a 12-hole non-stick muffin tin really well with butter.
2. Roughly chop the butter and chocolate and place in a medium bowl. Melt over a pan of simmering water or in the microwave in 30-second blasts, stirring between each go. Remove and leave to cool. 
3. Beat the sour cream, eggs and almond essence together in a small bowl or jug until blended. Toss the flour, sugar and ground almonds together in a large bowl and make a well in the centre. Pour the cooled chocolate mixture and the egg mixture into the centre and mix everything together thoroughly.
4. Divide the mixture evenly between the muffin tin holes, spreading each one smooth with the back of a spoon. Bake for 15-20 minutes until a skewer inserted in the centre of one comes out clean. Carefully tip them out onto a wire rack and leave until completely cool.
5. Using a sharp knife, slice the domed top off each one and arrange them flat side down on a tray or serving platter. Place the tub of vanilla frosting into a bowl of hot water for a few minutes and stir well to loosen it to a pouring consistency. Spoon a large tablespoon of it over a pudding, allowing it to run down the sides. Immediately place a dried cranberry and piece of rosemary in the centre to stick. Repeat with the remaining puddings, warming the frosting up a little to loosen again if necessary. These are ready to serve.
Tip: Use a toasted flaked almond sliver in place of the rosemary sprig if preferred.
Be the first to add a review.