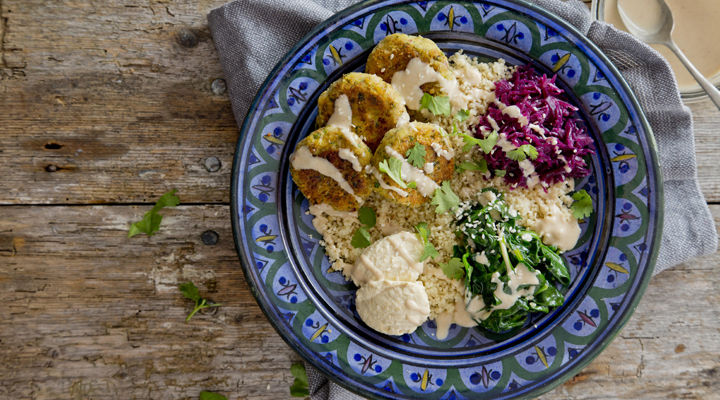 RECIPE OVERVIEW
A bowl filled with falafel, couscous and pan-fried spinach, all topped with a sweet and spiced tahini dressing.
Method
To make the falafel, put all the ingredients except the chickpeas and oil in a food processor and blend until smooth. Add the chickpeas and pulse until well combined, but make sure there are still some big pieces of chickpeas still visible. Roll the mixture into little balls – you should get around 16 balls or so. It's easier to fry them if you flatten the falafel balls into discs.
Heat the oil in a large frying pan over a high heat. Working in batches, add the flattened falafel balls and cook just until they start to turn golden, then flip over and cook the other side until that's golden too. Keep moving them around with a wooden spoon to make sure they don't burn.
To prepare the couscous, fill the kettle and boil it. Put the couscous, cumin, salt and chilli flakes in a saucepan or large heatproof bowl. Pour over enough just-boiled water to submerge the couscous, with about 2cm of water sitting on top of the couscous. Cover the pan with a lid or cover the bowl with cling film and leave to sit for 5 minutes.
To prepare the spinach, heat the oil in a medium-sized pan over a high heat. Add the garlic and cook for 30 seconds, stirring constantly. Add the spinach and cook, stirring constantly, for 2 minutes, until the spinach has wilted right down and become lovely and soft and tender. Remove the pan from the heat and squeeze over the lemon juice.
To make the tahini dressing, put all the ingredients in a blender and blitz until smooth.
To serve, put the couscous in the bottom of each of your serving bowls. Top with some of the spinach, a few spoonfuls of hummus, four falafel balls and some sauerkraut (if using). Finally, drizzle some of the tahini dressing across the top and scatter over the sesame seeds.
Be the first to add a review.