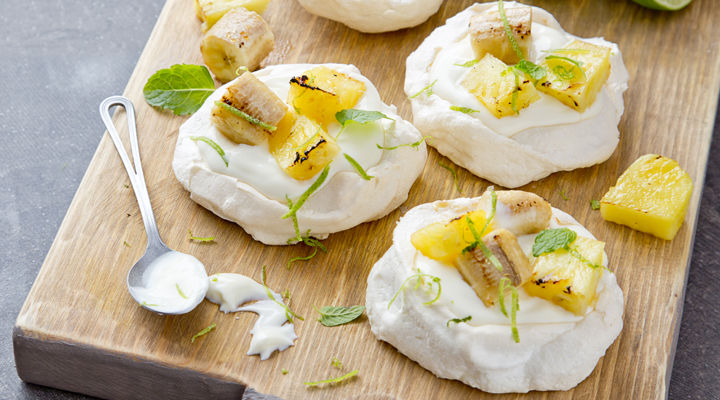 RECIPE OVERVIEW
The combination of grilled fruit, tangy yogurt and crisp meringue makes this an unusual take on a classic summer dessert.
Method
Preheat the oven to 140°C/gas mark 1. Line a baking tray with non-stick baking paper.
First make the meringues. Mix together the cornflour, vinegar and vanilla in a teacup. Whisk the egg whites in a large, dry, spotlessly clean bowl until the mixture stands in stiff peaks. Tip in 1 tablespoon of the golden caster sugar and beat for a few seconds, then carry on adding and whisking in the caster sugar, 1 tablespoon at a time. Sift in half the icing sugar and fold it in with a large metal spoon. Fold in the remaining half of the icing sugar, then fold in the cornflour mixture.
Pile eight separate mounds of meringue onto the lined baking tray. Create a dip in the centre of each meringue with a wet teaspoon. Bake in the oven for 1 hour, then turn off the oven but leave the meringues inside for 1 hour more to cool gradually. Carefully peel the meringues off the baking paper and leave to cool completely on a wire rack.
Cut the bananas into 3cm chunks and thread onto four metal skewers, alternating with chunks of pineapple. Squeeze the lime juice over the skewers and sprinkle with the golden caster sugar. Cook the skewers on a hot grill for 5 minutes, turning occasionally, or place under a medium grill for 3 minutes on each side. Slide the fruit from the skewers and allow to cool.
Gently whisk the yogurt and crème fraîche together, making sure the lemon and lime curd is well incorporated.
To serve, spoon 1 tablespoon of the yogurt mix on each mini pavlova. Top with grilled fruit and torn fresh mint leaves.
Tip: The meringues can be made up to three days ahead and stored in an airtight tin or wrapped in foil.
Be the first to add a review.