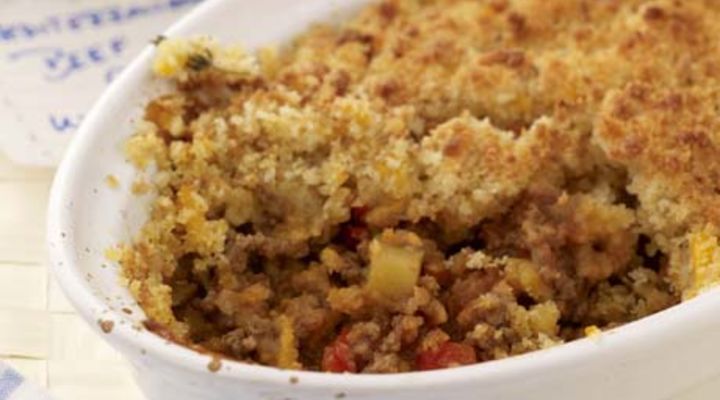 RECIPE OVERVIEW
This is a really great and tasty midweek meal which can be prepared with little or no fuss. The beauty of the dish is to cook two and then freeze one for a later date.
Method
Heat a large frying pan with the oil and add the red pepper, onion, courgette and garlic and sweat gently over a medium heat until they are softened.
After the vegetables have softened (approximately 3-4 minutes) add the minced beef and allow this to brown a little on the pan.
Then add in the tinned tomatoes and the beef stock along with the Worcestershire sauce (if using). Allow this to come to the boil, then simmer for 6-7 minutes.
Divide the mixture evenly between 2 bowls (or 4 if you prefer individual dishes) and then top with the topping.
Topping
Mix together the grated cheese, breadcrumbs, thyme leaves and melted butter and sprinkle on top of the bowls.
Cooking & storage instructions
Wrap one of the gratins up in cling film, label and date and pop it in the freezer.
Allow to thoroughly defrost before cooking at a later date.
To cook the remaining gratin preheat the oven to 190°C/375°F/Gas Mark 5.
Place the beef gratin onto a flat baking tray and pop into the oven for 20-25 minutes until it is bubbling hot.