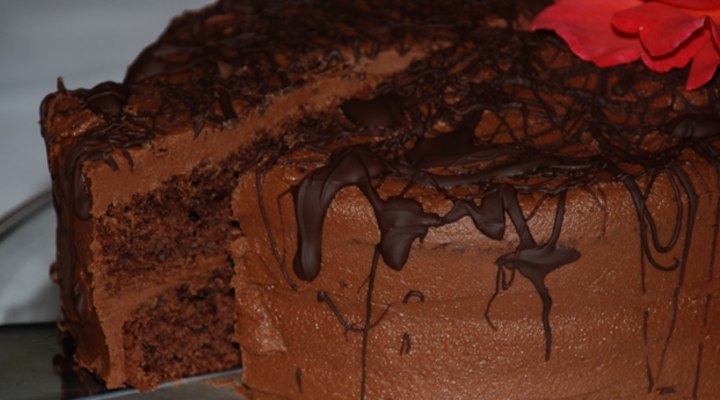 RECIPE OVERVIEW
A gorgeously moist chocolate cake that will WOW any guests....or just shock you into wondering how you made something that tasted so good so easily!
Cake:
35

g

Cocoa Powder

(1/3 cup)

235

g

Plain Flour

(1 1/2 cups)

120

g

SuperValu Butter

(1/4 lb block) softened

1

tub

SuperValu Sour Cream

(200ml)

200

g

SuperValu Sugar

(1 cup)
Frosting:
200

g

Dark Chocolate

(8 oz)

85

g

SuperValu Butter

(3 oz)

375

g

SuperValu Icing Sugar

(2 1/2 cups)

155

ml

SuperValu Sour Cream

(2/3 cup)
Optional:
50

g

Milk Chocolate

melted, to decorate
Method
 Preheat your oven to 180°C (regular)/165°C (fan), gas mark 4.
Prepare 2 x 8inch sandwich tins (at least 2" in height) by greasing and lining the bottom of the tin with baking parchment.
Into a large mixing bowl (or the bowl of a stand mixer) place your eggs,granulated sugar, softened butter, flour, cocoa, sour cream and vanilla essence. Sieve in your baking power and baking soda.
Using the whisk attachment of your hand blender or stand mixer, blend all the ingredients together. Remember to start on a very low speed so that the flour can become incorporated into the cake batter without being sprayed out of the bowl (and all over the room and bakers!)
Mix the cake batter just until it looks smooth and there are no lumps.
Divide the cake batter approximately equally between your two tins.
Place the cake tins into the oven in a central shelf and bake for 25minutes.
Check to see if the cakes are cooked by sliding a clean knife or skewer into the centre of the cake and seeing it come out clean. Also, the cake shrinking away from the sides of the tin is a good sign that the cakes are cooked.
Remove from the tins and allow them to fully cool on a rack.
Icing:
Place your butter and dark chocolate into a bowl and melt in the microwave, ensuring all chocolate is well dissolved.
Measure out your icing sugar into a large mixing bowl or the bowl of your stand mixer.
Pour your melted chocolate and butter mixture into the icing sugar and add the sour cream and vanilla.
Mix all the ingredients until a smooth icing consistency has been achieved.
Assembly:
Place the first of your cooled cakes onto a serving plate and use approximately 1/3 of your frosting on top, spreading it all over the surface.
Place the second cooled cake on top and line it up so that it is sitting on top of the first cake.
Place the rest of the frosting on to the cake and use a pallet knife or spatula to spread the frosting over the top of the cake and work it down the sides.
Place in the fridge to chill and set.
Optionally, melt 50g of dark or white chocolate in the microwave and use a teaspoon to drizzle over the chilled cake. (this is a great trick to make your cake look well finished, even if your frosting is exactly perfectly smooth)
Maryanne's Tip:
This cake will store very well for a few days and can be made in advance of any celebration. It is also suitable for home freezing without the frosting, but ensure you have it well wrapped in SuperValu cling wrap to avoid freezer burn.
Be the first to add a review.