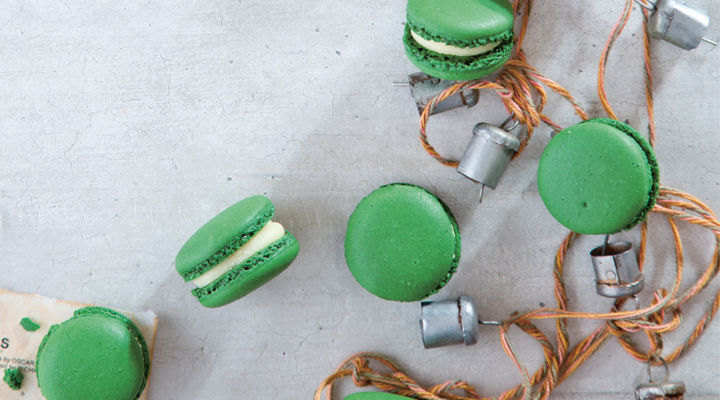 RECIPE OVERVIEW
Ideally you'll need five silicone mats or five baking trays for this recipe, but you can make these in batches if needed.
2

-

Eggs

whites only, about 75g

3

-

Eggs

whites only, about 90g

185

g

SuperValu Ground Almonds

185

g

SuperValu Icing Sugar
For The White Chocolate Ganache Filling
250

g

Gluten Free White Chocolate

drops or chips
For The White Chocolate Ganache Filling:
Method
Mix the icing sugar and ground almonds together in a bowl, then add your chosen colour, flavouring and 75g egg whites and mix well.
To make a sugar syrup, put the caster sugar and cold water in a saucepan set over a medium-high heat and simmer until it reaches 120°C on a candy thermometer.
Meanwhile, whisk the remaining 90g egg whites until light and fluffy. Gradually add the sugar syrup to the egg whites while mixing at a medium speed. Keep mixing until it's cold. Fold this into the almond mixture, then transfer to a piping bag with a round nozzle.
Pipe small rounds onto silicone mats or baking trays lined with non-stick baking paper. Allow to stand at room temperature for 1 hour.
Meanwhile, to make the ganache, bring the cream to the boil in a medium-sized saucepan. Remove from the heat, add the white chocolate drops and mix well, until smooth. Transfer to a piping bag and chill in the fridge.
Preheat the oven to 130°C/gas mark ½.
Bake in the oven for 12 minutes. Allow to cool on the tray before you remove them.
To assemble, pipe some ganache on the flat side of half of the macarons, then sandwich them together.
Be the first to add a review.