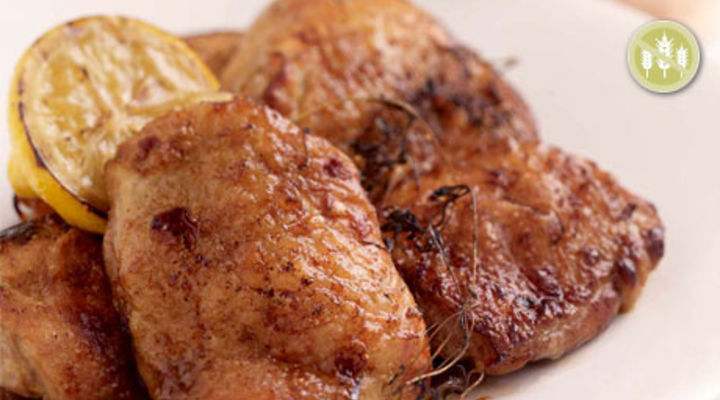 RECIPE OVERVIEW
This is a very tasty way to cook chicken thighs. The combination of flavours is delicious.
Method
Preheat the oven to 180ºC / 350ºF / Gas Mark 4.
Heat a large frying pan with a little butter. Season the chicken thighs with a little salt and paprika pepper (which will give the chicken an added kick) and quickly brown them on both sides and then transfer to a large casserole dish.
Return to the heat, pour in the honey, soy sauce, lemon zest & juice together with the boiling water and the sprigs of thyme, if using, and allow the mixture to come to the boil.
Pour this mixture over the browned chicken thighs, cover the casserole dish with tin foil and place in the preheated oven for 45 minutes. After 45 minutes remove the casserole dish, take off the tin foil and return the dish to the oven for a remaining 20-25 minutes to crisp up the chicken.
Roasted Potatoes
Prepare a baking tray by lining with a little parchment.
Peel the potatoes and dice into small cubes. Dry them well with some kitchen paper.
Place the potatoes into a large mixing bowl, with the diced garlic and the oil. Season well with salt and pepper and mix thoroughly.
Place the potatoes on the baking tray and roast in the oven for 35-40 minutes.
Serve the roasted potatoes with the glazed chicken and steamed sliced carrots.
Be the first to add a review.