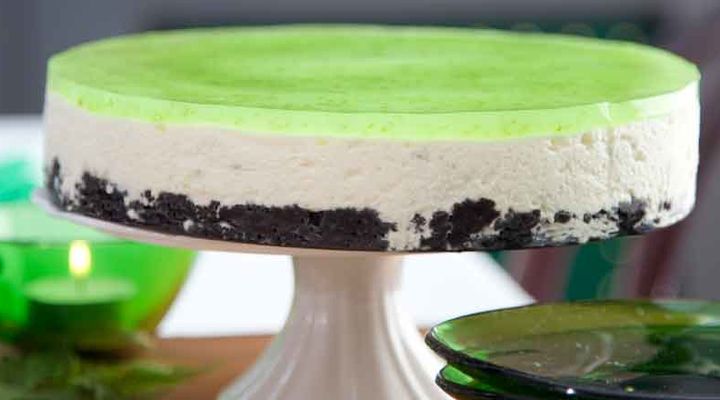 RECIPE OVERVIEW
This cheesecake can be made the day before, but you'll need to use it up within three days because of the dairy ingredients.
75

g

Butter

plus extra for greasing

150

g

Oreo Biscuits

or similar
Method
Line the base of a 20cm springform tin with non-stick baking paper and butter the sides. Soak the gelatine sheets in cold water.
Whizz the biscuits in a food processor, fi lling and all, or put them in a bag and bash them with a rolling pin. Melt the butter and add it to the biscuits. Mix together thoroughly, then press firmly into the base of the tin and set aside.
Beat the cream cheese, crème fraîche and sugar together in a large bowl with a spatula, then beat in the cream and lime zest, retaining 1 teaspoon of zest for the jelly. Heat 2 tablespoons of the lime and lemon juice in a small pan until it's hot but not boiling, then stir in the soaked gelatine and beat this into the filling. Spoon the filling over the biscuit base, level the top and chill for 2 hours, until set.
To make the jelly topping, bring the remaining lemon and lime juice (you should have about 100ml of juice) to the boil in a small pan and stir in the sugar, water, agar agar and reserved lime zest. Cool until nearly set, then pour on top of the cheesecake and chill overnight. This will keep for up to three days in the fridge.
Take the cheesecake out of the fridge about 30 minutes before serving, as it shouldn't be fridge cold. Cut into slices with a hot knife to serve.
Be the first to add a review.