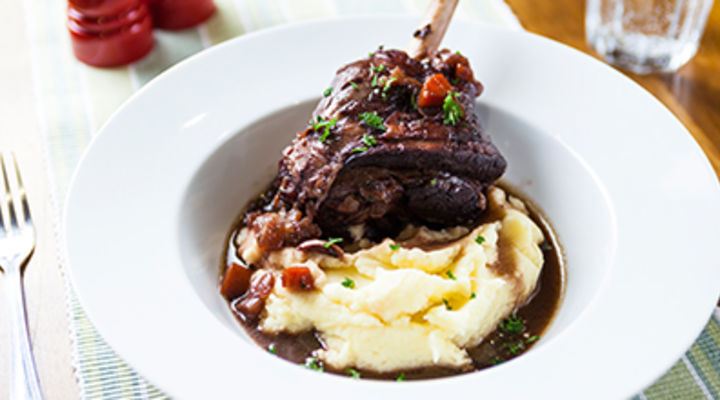 RECIPE OVERVIEW
This is comfort food at its best: slow cooked, melt in the mouth lamb with mash.
1

L

Chicken Stock Cube

well flavoured

1

sprig

SuperValu Fresh Rosemary

2

sprig

SuperValu Fresh Thyme

4

cloves

SuperValu Garlic

crushed

4

-

SuperValu Lamb Shanks

1

large

SuperValu Onion

diced
Garlic Mash
6

large

SuperValu Potatoes
Method
Preheat the oven to 150°C/300°F/ Gas Mark 2.
Heat a large frying pan with a little oil.
Quickly brown off the lamb shanks until they are sealed all over and then transfer to the casserole dish.
Brown off the chopped vegetables and herbs for a few minutes and add these in on top of the lamb shanks also.
Pour in the red wine and the chicken stock on top of the lamb shanks and cover the entire casserole with a lid.
Transfer to the oven and bake for 2 ½ hours until the meat is tender and well cooked through.
Remove the shanks from the liquid and then sieve the sauce and bring it to the boil until a sauce like consistency has been achieved.
Serve the shanks drizzled with the reduced sauce.
Garlic Mash
Horizontally slice the bulb of garlic.
Place into some tin foil and drizzle with a little oil, seal the tin foil and place in the oven for approximately 45-55 minutes until the garlic has softened.
Peel the potatoes and cut in quarter, place into a large saucepan of water and bring to the boil.
Reduce the heat to a simmer, fit with a tightly fitting lid and continue to cook until the potatoes are softened.
Strain the potatoes into a large colander and return to the saucepan with the butter and the milk.
Squeeze the garlic out of the roasted bulbs into the potatoes also.
Mash the potatoes until completely smooth.