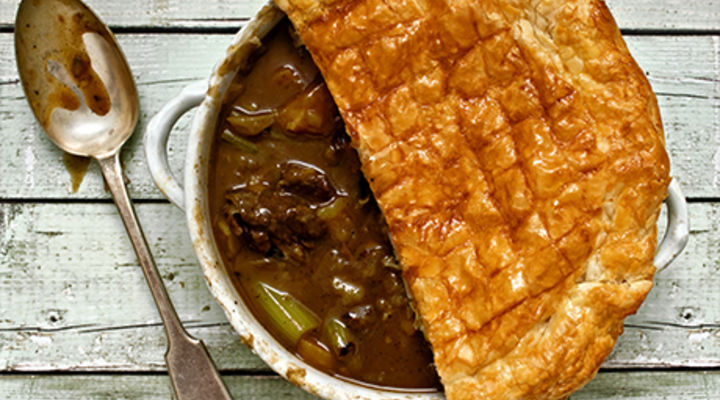 RECIPE OVERVIEW
Steak and kidney pudding is one of those comforting dishes that will always leave the family satisfied.
1

-

Fresh Egg

yolk mixed with milk for brushing

2

tbsp

Plain Flour

plus extra for dusting

1

knob

SuperValu Butter

for greasing

200

g

SuperValu Button Mushrooms

quartered

1

pinch

SuperValu Cayenne Pepper

1

sprigs

SuperValu Fresh Thyme

3

cloves

SuperValu Garlic

2

-

SuperValu Onion

diced

625

g

SuperValu Quality Irish Diced Beef

1

tbsp

SuperValu Tomato Purée

1

tbsp

Worcestershire Sauce
Method
Preheat the oven to 160°C/325°F/gas mark 3.
Wash the kidneys and cut them in half. Remove the tubes and peel off the outer membrane.
Put the butter and oil into a large saucepan over a medium heat, add the onions and garlic and cook for 3–4 minutes, until softened.
Add the beef and kidneys to the pan and cook for 3–5 minutes, until the meat is brown and sealed all over.
Add the mushrooms, season with salt and pepper and fry for a further 2 minutes, shaking the pan to combine.
Mix the flour and cayenne pepper in a small bowl, then sprinkle over the beef mixture. Stir well to coat, then cook for 1–2 minutes, until the flour has coloured too (this will give an extra flavour and thickness to the sauce later on).
Gradually pour in the stock and stir constantly until the sauce begins to thicken.
Add the wine, tomato purée, bay leaf, thyme sprigs and Worcestershire sauce. Stir and bring to the boil, then cover and simmer for 11⁄2–2 hours, until the beef is tender. Remove from the heat and leave to cool.
Set aside one-quarter of the dough, then roll out the remainder on a lightly floured surface. Grease a 1 litre (1 quart) pudding bowl (deep ovenproof dish) and line with the dough, making sure any splits are well sealed.
Spoon the meat into the bowl, reserving the gravy to thicken and serve separately. Roll out the reserved dough to fit the top.
Dampen the pastry around the edge of the bowl with egg wash and place the lid on top.
Trim off the excess with a knife, then flute the edges by pressing the back of a knife into the pastry at regular intervals.  Lightly prick the surface with a fork and brush all over with more egg wash.
Place in a roasting pan in the oven and pour in enough boiling water to come halfway up the outside of the bowl.
Steam for 2–21⁄2 hours. Keep an eye on the steamer and, when necessary, top it up with boiling water to maintain a consistent level around the bowl. Do not use cold water, as it will make the pudding heavy. 
Be the first to add a review.