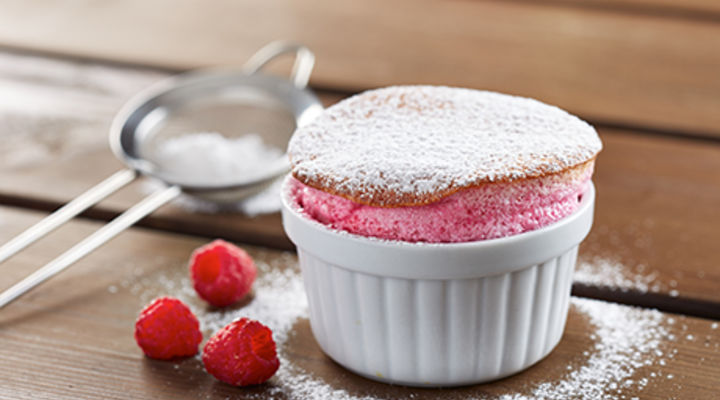 RECIPE OVERVIEW
These little soufflés are an impressive dessert, but they will need to have all your attention until the last minute. Prepare and set out all the ingredients beforehand so you can work quickly.
175

g

Caster Sugar

plus extra for dusting

3

-

Fresh Egg

yolks at room temperature

4

-

Fresh Egg

whites at room temperature

20

g

SuperValu Butter

softened

100

g

SuperValu Crème Fraîche

3

tbsp

SuperValu Icing Sugar

0.5

-

SuperValu Lemon

juice of

200

g

SuperValu Raspberries

at room temperature
Method
Preheat the oven to 180°C/350°F/gas mark 4.
Butter four 120ml (1⁄2 cup) ramekins or heatproof teacups using upward strokes. Place in the refrigerator for 5 minutes, then brush with a second coating of butter.
Sprinkle some caster sugar over the butter and shake out the excess.  Return to the refrigerator until required.
Put the raspberries and lemon juice into a blender or food processor and blend to a purée. Pass the mixture through a fine sieve or strainer to remove any seeds.  
Measure out 50g (1⁄4 cup) of the purée and place in a small bowl. Mix the remainder with 1 tablespoon of the icing sugar and set aside.
Place the crème fraîche, egg yolks and measured amount  of raspberry purée in a bowl and beat until combined.
In a spotlessly clean bowl, whisk the egg whites until they form soft peaks.  Gradually beat in the caster sugar one-third at a time.
Add the xanthan gum with the last third of the sugar and whisk again until stiffer.
Using a large plastic spatula or metal spoon, fold one-quarter of the egg whites into the crème fraîche mixture. Once combined, fold in the remaining egg whites, stirring from the side through the centre. Do not overmix as you want to keep in the air bubbles.
Spoon the soufflé mixture into the prepared dishes, then run your thumb around the rims to remove any splashes.  
Place the dishes on a baking sheet and bake for 10–12 minutes, until the soufflés are risen and golden.
Quickly dust with the remaining icing sugar and serve the remaining raspsberry purée in a jug (pitcher). The soufflés should hold for 2–3 minutes before collapsing.