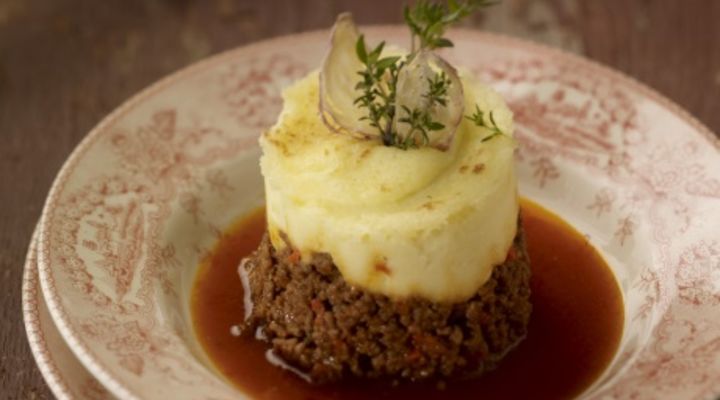 RECIPE OVERVIEW
For those who like to be a day ahead with their dinner options this is the ideal dish as it can be very easily prepared in advance and in fact tastes better if it is.
Filling:
2

-

Carrots

finely chopped

1

stick

Celery

finely chopped

1

glass

Red Wine

(optional)

1

tbsp

SuperValu Fresh Thyme

chopped

1

clove

SuperValu Garlic

crushed

300

g

SuperValu Irish Beef Mince

2

-

SuperValu Onion

finely chopped

2

tsp

SuperValu Tomato Purée

1

tbsp

Worcestershire Sauce

(optional)
Mashed Potato Topping:
0

-

SuperValu Salt

for seasoning
Method
Preheat the oven to 190C/375F/Gas Mark 5. Peel the potatoes and place into a large saucepan of water and bring to the boil. Reduce the heat to a simmer, fit with a tightly fitting lid and continue to cook until the potatoes are softened. Strain the potatoes into a large colander and return to the saucepan with the butter and the milk. Mash the potatoes until completely smooth.
Meanwhile, heat the vegetable oil in a pan.   Add the minced beef to the pan and cook for 3 – 4 minutes until browned, breaking up any lumps with the back of a wooden spoon.   Remove the pan from the heat and strain the mince in a colander over a bowl.  Set aside for a few minutes.
Add a tbsp of oil  to the pan and add the vegetables, garlic and thyme, sauté for 3-4 minutes until just beginning to soften but not colour.  Add the beef back into the pan and stir in the tomato puree, Worcestershire sauce and red wine and cook gently for another 15-20 minutes until completely tender.
Divide the beef and vegetables between 4 individual ramekins or serving bowls. Pipe or spoon the potatoes onto the top of the meat mixture.
Pop the individual pies into the oven and cook for a further 10-12 minutes until bubbling hot and golden brown. Serve immediately.
Be the first to add a review.