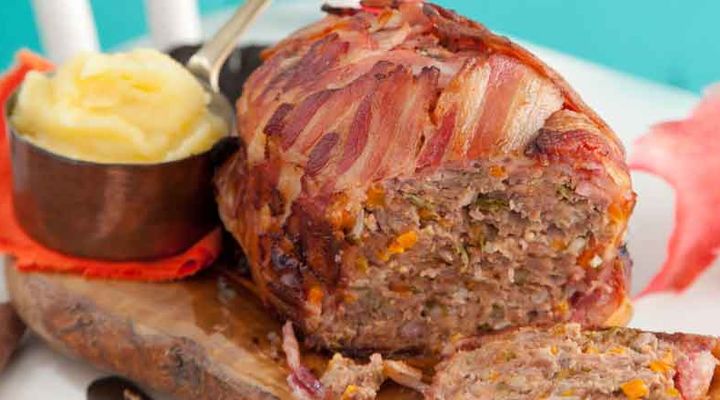 250

g

Lean Round Steak Mince

3

tbsp

Olive Oil

for drizzling

1

-

SuperValu Carrot

finely diced

1

tsp

SuperValu Dried Mixed Herbs

100

g

SuperValu Fresh Breadcrumbs

900

g

SuperValu Rooster Potatoes

peeled and cut into large chunks

12

slices

SuperValu Streaky Bacon Rashers

2

tbsp

SuperValu Tomato Purée

500

g

Superquinn Award Winning Irish Sausages

1

tbsp

Worcestershire Sauce
Method
Preheat the oven to 180°C/gas mark 4.
First roast the garlic. Slice the garlic bulb horizontally, then place it on a large square of kitchen foil, drizzle the bulb with some oil and season with salt and pepper. Wrap the bulb in the foil and place in the oven for 45 to 55 minutes, until the garlic has softened.
Line a small round tin or 2lb loaf tin with the streaky bacon, allowing at least 2cm to 3cm to overhang in order to fold it back over the base of the meatloaf.
In a large bowl, combine the sausage meat, minced beef, breadcrumbs, egg, onion, carrot, garlic, tomato purée, Worcestershire sauce, dried mixed herbs and mustard and season with salt and pepper.
Spoon the mixture into the prepared tin and smooth the surface. Cover with the overhanging streaky bacon, then add a layer of foil. Place in the oven for 35 minutes, then remove from the oven and drain off any excess liquid.
Meanwhile, to make the garlic mash, place the potatoes in a large saucepan and barely cover with water. Bring to the boil, then reduce the heat to a simmer and cook for 25 minutes, until very tender but not falling apart.
Drain the potatoes and return to the saucepan over a low heat. Roughly mash them with a potato masher, then add the butter and beat with a wooden spoon until fluffy. Season to taste with salt and pepper.
Slice the meatloaf into 2cm slices and serve immediately with some creamy garlic mash.
Be the first to add a review.