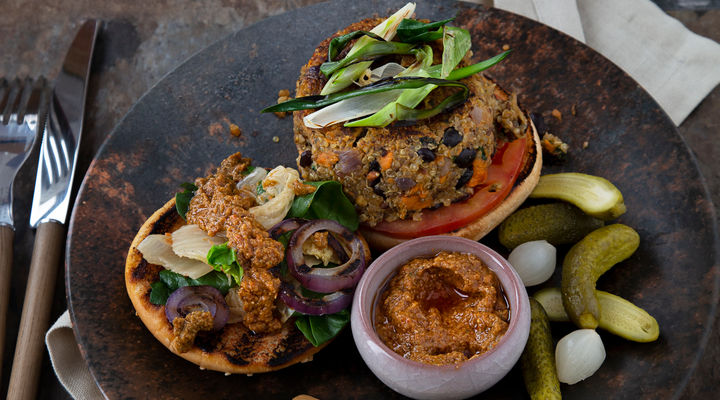 RECIPE OVERVIEW
Try this tasty burger with Happy Pear Sundried Tomato Pesto for some extra sunny flavours.
1

tbsp

Soy Sauce

or tamari

6

-

SuperValu Burger Buns

to serve

25

g

SuperValu Fresh Coriander

or flat-leaf parsley
Method
1. Rinse the quinoa in a sieve, then put in a pot along with the 300ml of water and a pinch of salt. Bring to the boil on a high heat with the lid on.
2. Once boiling, reduce to a simmer and remove the lid. Leave to simmer until there is only 1 to 2cm of water left in the bottom. Turn the heat off, put on the lid and set aside. This will enable the quinoa to puff up and soften in the steam.
3. Fill and boil the kettle. Chop the sweet potato into small bite-sized pieces. Fill a saucepan with the justboiled water, then add the chopped sweet potato and bring to the boil. Once boiling, reduce the heat and simmer until the sweet potato is soft and cooked but not too mushy. This should take about 15 minutes. Drain and set aside.
4. Meanwhile, make a flax 'egg' to help bind the burgers together. Put the ground flax seeds in a mug along with 6 tablespoons of water and set aside for 5 minutes to thicken.
5. Peel and finely chop the red onions and garlic. Finely chop the coriander or parsley. Drain and rinse the black
beans.
6. Toast the cashews in a non-stick pan on a medium heat for 5 to 7 minutes, stirring regularly to prevent them from burning. Once they start to turn golden, remove from the heat. Allow to cool, then finely chop. Heat 1 tablespoon of the oil in a
non-stick pan on a high heat. Add the onions, garlic and cumin seeds and fry for about 4 minutes, until the onions start to brown.
7. Transfer to a large bowl with the cooked quinoa and sweet potato, flax 'egg', black beans, toasted cashews, coriander or parsley, lemon juice, tamari or soy sauce and 1 teaspoon of salt. Using a potato masher, gently mash the mixture until it's well combined, but not so much that you lose the textures of  the individual ingredients. You want the burgers to have some texture.
8. Form into six burgers and set aside.
9. Heat the remaining tablespoon of oil in a non-stick pan on a high heat. Add as many burgers that will fit in your pan at one time. Cook just until they've started to turn brown, then flip and brown the other side too. Repeat with the remaining burgers. Alternatively, for a healthier option you could bake the burgers in an oven preheated to 200°C/gas mark 6
for 10 minutes.
10. Serve in a toasted bun with your favourite toppings. We like sliced tomato, griddled spring onions and red onion slices and a dollop of our sundried tomato pesto with some cornichons and pickled onions on the side.
Be the first to add a review.