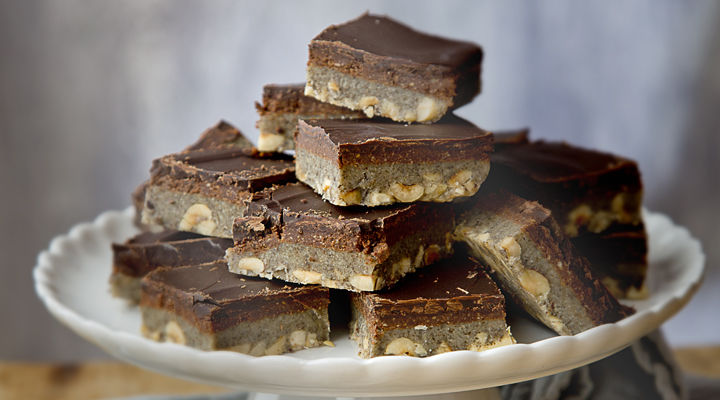 RECIPE OVERVIEW
This is an indulgent way to use my homemade chocolate hazelnut butter, plus it's fun to make with kids.
1

pinch

Sea Salt

flaky, such as Maldon
Method
Line a 20cm square baking tin with non-stick baking paper.
Gently crush the roasted hazelnuts with the back of a wooden spoon, then sprinkle into the bottom of the lined tin.
Put the tahini, coconut oil, chia seeds, honey, vanilla and salt in a small pot set over a medium-low heat and cook for about 3 minutes, stirring gently, until melted together. Remove from the heat and allow to cool for a couple of minutes, then pour into the tin over the nuts. Chill in the fridge for about 30 minutes to set.
Spread the chocolate hazelnut butter over the nougat and chill in the fridge again for 15 minutes.
Break up 150g of the chocolate and put it into a microwave-safe bowl. Set the microwave at half power, then melt the chocolate in 30-second bursts to start with, then reducing to 10-second bursts, stirring between each burst until the chocolate is mostly melted but still with a few small chunks remaining. Remove the bowl from the microwave and stir in the remaining chocolate, square by square, stirring until the chocolate cools and thickens slightly. Pour the chocolate over the chocolate hazelnut butter in the tin and leave to set in the fridge.
Using the baking paper to help you, remove the slab from the tin and cut into 4cm or 5cm squares with a sharp knife. These treats are perfect for a post-workout snack and will keep in an airtight container in the fridge for up to a week.
Be the first to add a review.