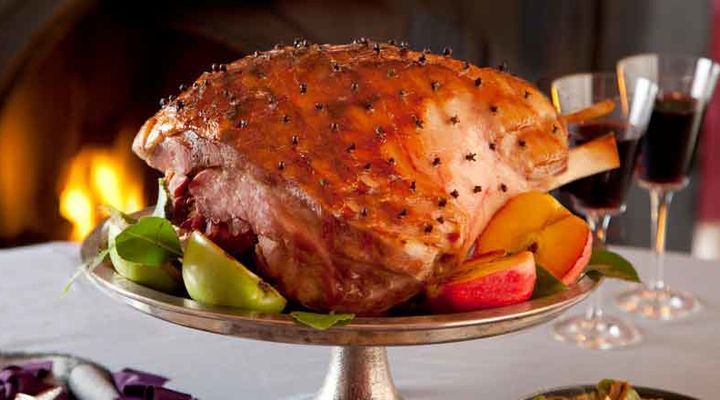 RECIPE OVERVIEW
When cooking with cider, make the meal extra special by using an Irish Craft Cider like Longueville House Cider. Better still, serve it with the meal.
3.5

kg

SuperValu Quality Irish Ham Fillet

on the bone

1

-

Supervalu Bramley Apples

chopped
Method
Allow the ham to soak in water for at least 2 to 4 hours. Drain and pat dry, then place the ham, fat side up, on a rack in a shallow baking pan and add a little water under the rack. If you prefer to bake your ham right from the start, then cover it with foil and bake for the times shown in the panel. Remember to remove the foil for the last half hour.
Place the ham in a large, heavy based saucepan. Add 500ml of cider and the onion, carrot, apple, garlic and bay leaves. Bring to the boil, then reduce the heat, cover the pan and simmer for about 1 / hours. Remove from the heat and allow the ham to cool in the cooking liquor.
Meanwhile, bring the remaining cider and the brown sugar to the boil in a saucepan, then reduce the heat and simmer for 5 to 8 minutes, until the liquid has reduced by half. Set aside until needed.
Preheat the oven to 180°C/gas mark 4.
Remove the ham from the cooking liquor. Using a sharp knife, remove the rind, leaving an even layer of fat. Score diamond-shaped lines into the fat. Stud the cloves into the layer of fat and put the ham on a baking tray.
Brush the cider glaze over the ham and roast in the oven for 30 minutes, until the fat has become caramelised and crunchy. Loosely cover with tin foil and bake in the oven for about 1 hour or perhaps a little more, depending on your oven.
Take the tin foil off at this stage and turn up the heat for an additional 20 to 30 minutes, until browned. Once cooked, rest the ham for at least 30 minutes before slicing.
Be the first to add a review.