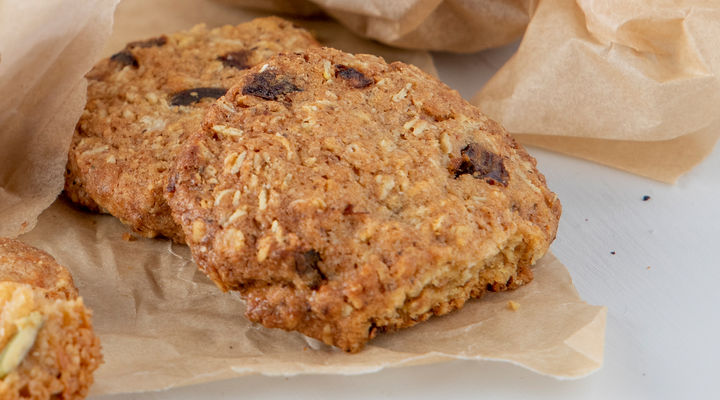 RECIPE OVERVIEW
Oat and date based cookies will contain slightly more fibre and protein than chocolate or plain cookies. Also when you bake your cookies at home you control how much sugar you add. They're still a cookie though so use them as a treat.
300

g

Pitted Dates

and chopped

300

g

SuperValu Dark Brown Sugar
Method
1. Put the butter, sugars and flours in a mixing bowl and beat on high speed for 2 to 3 minutes, until light and creamy. Add the eggs one at a time, beating to blend and scraping down the bowl between additions. Beat in the dates, oats and vanilla.
2. Divide the dough between two large sheets of parchment paper. Using the paper as an aid, roll up each piece of dough into a log 4cm to 5cm in diameter. Wrap in cling film and freeze for at least 4 hours or up to three weeks.
3. Preheat the oven to 180°C/gas mark 4. Line a baking sheet with non-stick baking paper. 
4. Unwrap the dough and cut into slices about 1cm thick. Return any unused dough to the freezer. Place the rounds 5cm apart on the lined baking sheet.
5. Bake in the oven for 15 to 18 minutes, until the
edges are golden brown. Transfer to a wire rack and
allow to cool completely before storing in an airtight
container.
Be the first to add a review.