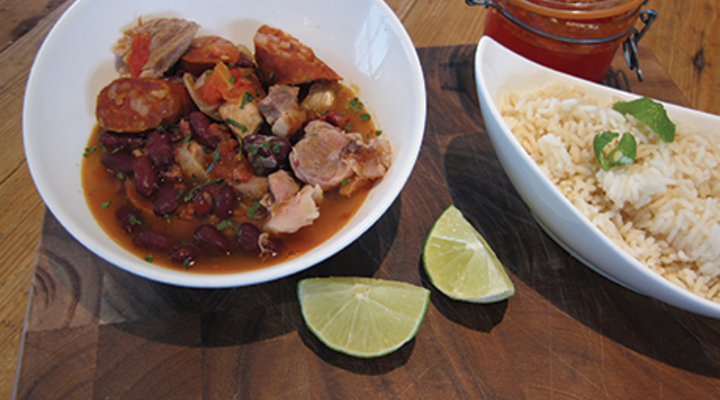 RECIPE OVERVIEW
A classic taste of Brazilian cooking.
450

g

Black Beans

or Butter Beans

450

g

Brisket or Silverside

(slowly cooked and cut into cubes)

450

g

Pork Shoulder

(cut into chunks)

1

clove

SuperValu Garlic

(chopped)

4

tbsp

SuperValu Olive Oil

2

large

SuperValu Onion

(sliced)

400

g

SuperValu Tinned Tomatoes

or Ripe Tomatoes
Method
Pour boiling water over the black beans and let them sit while you prepare the rest of the stew.
Heat the olive oil in a large pot over a medium-high heat and brown the pork shoulder. When it has browned, remove the shoulder meat from the pot, set aside and add the onions to the pot in its place.
Brown the onions, stirring occasionally, scraping up any browned bits from the bottom of the pot. Sprinkle a little salt over the onions and add the garlic. Stir well and sauté for two more minutes.
Add the pork shoulder back to the pot along with the other meats, and add enough water to cover. Add the bay leaves, cover and bring to a simmer. Cook gently for one hour. Drain the black beans from their soaking liquid and add them to the stew. Simmer gently, covered, until the beans are tender, for about an hour and a half.
Add the tomatoes, stir well and taste for salt, adding if it's needed. Simmer this, uncovered, until the meat begins to fall off the ham hock, which will probably take 2-3 hours.
Serve with white rice and hot sauce. An optional side dish would be sautéed cabbage leaves, or broccoli.
For true authenticity, black beans are a must in this recipe. If necessary, you could use butter beans as an alternative.
Be the first to add a review.