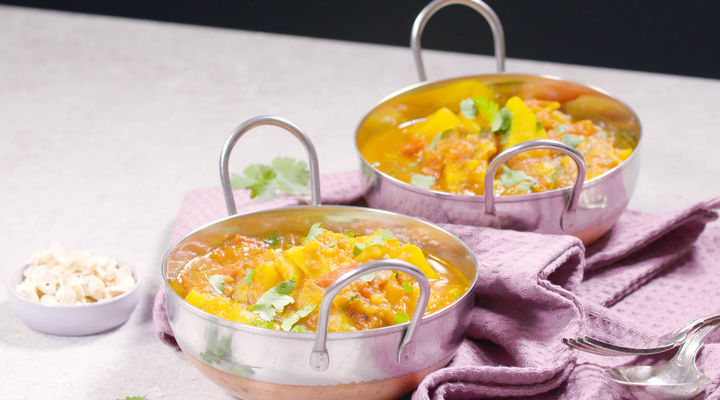 RECIPE OVERVIEW
You can cook this in 30 minutes if you're in a rush, but if you have a little more time to let it simmer for longer, it will allow the flavours to really infuse the curry and the sauce to thicken.
2

cloves

Garlic

finely chopped

1.5

tbsp

Medium Curry Powder

1

bunch

SuperValu Fresh Coriander

finely chopped

1

-

SuperValu Fresh Ginger

one thumb sized piece, peeled and finely chopped

8

-

Tomatoes

ripe and finely diced

4

-

Whole Potatoes

approx. 600g, unpeeled and cut into bite-sized pieces
To garnish:
1

-

Cashew Nuts

crumbled or flaked almonds
Method
1. Heat the oil in a large heavy-bottomed pot over a high heat for 3 minutes, until the oil and pot both heat up. When the oil is hot, turn the heat down to medium-low and add the tomatoes, leek, garlic, ginger and 2 teaspoons of the salt. Cook for 10 minutes, covered with a lid, stirring occasionally.
2. Stir in the curry powder and turmeric. Cook for 3 minutes, still on a medium-low heat, stirring frequently. Add 1 or 2 tablespoons of water if it starts to stick.
3. Meanwhile, measure the 200ml of water into the kettle and bring to the boil.
4. Add the potatoes and the remaining teaspoon of salt along with the just-boiled water and stir well so that all the potatoes are coated in the sauce.
5. Turn the heat up to high and bring to the boil, then reduce the heat and simmer for 10 to 15 minutes, stirring every 5 minutes or so to make sure the potatoes cook evenly. Depending on the type of potatoes you use, the curry should be cooked and ready to serve in 25 to 30 minutes, but if you have the time, letting it simmer for an extra 15 minutes will make it taste even better.
6. Stir the chopped fresh coriander into the curry just before serving. Taste and add more salt and pepper if required. Garnish with some flaked almonds or crumbled cashew nuts.
Be the first to add a review.