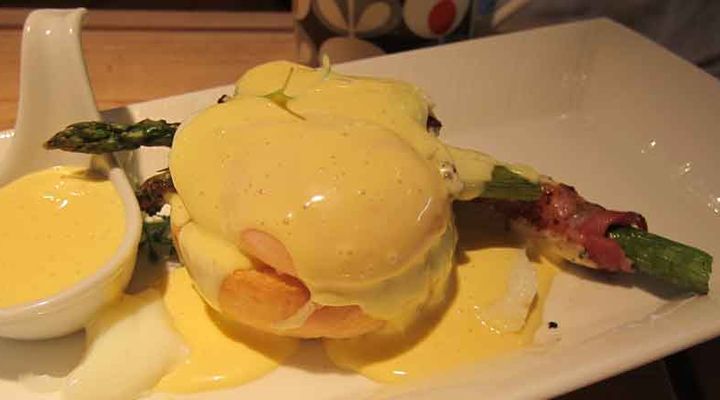 RECIPE OVERVIEW
This elegant recipe makes for the perfect breakfast treat for any occasion.
Hollandaise Sauce
1

pinch

Black Pepper

to season
Method
Prepare the hollandaise sauce. Heat a large saucepan of water and keep it on a very gentle simmer. In a bowl, whisk the egg yolks with the lemon juice. Place the bowl over the simmering water and continuously whisk at all times until the egg yolks become light and creamy in both colour and consistency. Whilst continuing to whisk at all times, remove the bowl from the simmering water and very slowly pour in the clarified butter. Keep aside covered in cling film.
In the meantime, Half fill a saucepan with some salted water for the asparagus, then half fill a second saucepan with some salted water and a splash of vinegar to poach the eggs.
Place the asparagus in the boiling salted water, and blanch for 3-5 minutes until just-tender but still bright green. Remove from the water, and toss lightly in fresh butter. Warp the asparagus with the streaky bacon, then over medium heat in a sauté pan, sauté the asparagus for 2 minutes shaking the pan.
In the second pan, allow the water to come to a gentle simmer and poach the eggs until cooked to your liking.  (Don't allow the water to boil vigorously as your eggs will break up if it does) – 3 minutes for a soft poached egg.
When the eggs are cooked, remove from the water with a slotted spoon and allow to drain on some kitchen paper.
Lightly toast the bread slices then serve the toast with  a layer of the caramelised asparagus, then gently add the poached eggs on top.  Top with a generous serving of hollandaise sauce.
Be the first to add a review.