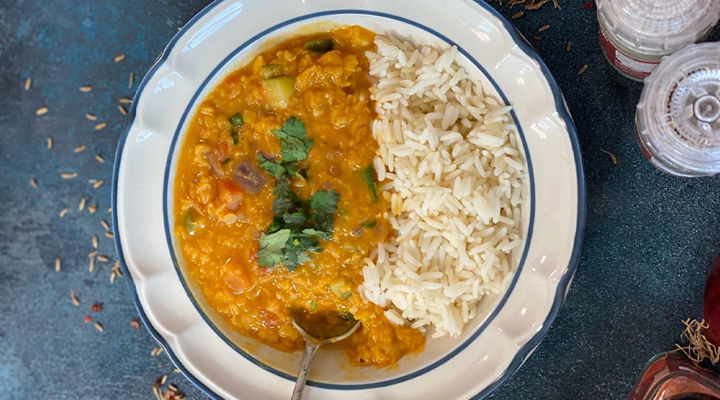 RECIPE OVERVIEW
A delicious, smooth, lentil-based curry that melts in your mouth. A perfect comfort food on a cold day.
1

tsp

Ground Black Pepper

1

tbsp

Medium Curry Powder

1

-

SuperValu Easy Cook Long Grain Rice

to serve

10

g

SuperValu Fresh Coriander

0.5

-

SuperValu Fresh Ginger

4

medium

Tomatoes

ripened, OR 1 tin of chopped tomatoes
Method
Peel and finely slice the onions, garlic and ginger. Cut the courgette into bite-size pieces and roughly chop the tomatoes.
Heat a large pot (approx. 5ltr in size) on a high heat. Once hot, add the oil and the chopped onions and ginger and fry for five minutes. When the onions are starting to brown around the edges, add the courgette, chopped tomatoes, garlic and one teaspoon of the salt. Cover the pan with the lid and cook gently over a medium heat for 5 – 10 minutes, stirring occasionally. 
Add the lentils, spices, soy sauce, lime juice, veg stock

 

and coconut milk

, and bring to the boil. Reduce to a low heat and simmer for 20 minutes, or until you are happy with the texture of the dahl. The red lentils will have started to break down and go almost creamy in appearance. The longer you leave it simmer for the thicker the sauce will become. Stir regularly, as lentils tend to stick. Season with salt and pepper to taste or add more lime juice to add acidity to cut through the lentils.
Finely chop the coriander and sprinkle over the dahl. Serve with long grain rice. Mango chutney is also a nice accompaniment.
Be the first to add a review.