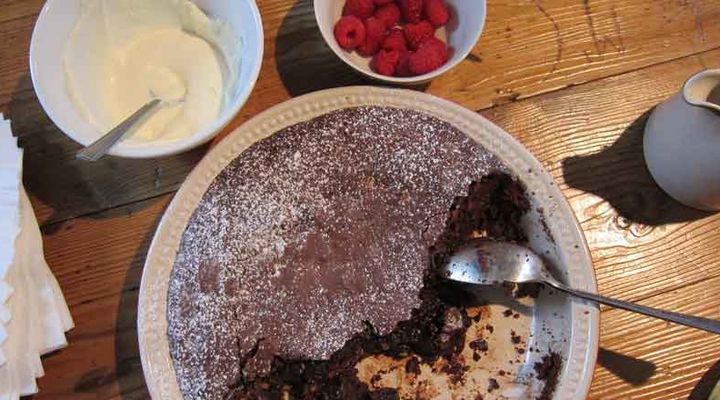 RECIPE OVERVIEW
These are rich, so a little goes a long way! Don't go for a big slice here – it's definitely less is more!
Method
Preheat the oven to 160C/325F/Gas Mark 3. Grease and line with parchment paper an 8" square baking tray.
Place the chocolate and butter into a bowl over a pan of simmering water until all the chocolate has melted.   Remove the chocolate from the heat then add the sugar and stir to combine. Allow to cool for a few minutes.
In a separate bowl beat the eggs with the vanilla seeds / extract. Add this mixture to the chocolate, a little at a time, beating well after each addition. Sift in the flour, cocoa and fold together. Finally add the chocolate chunks, distributing as evenly as possible.
Pour the mixture into the prepared tin and place in a preheated oven for approximately 20 minutes. Remove from the oven and allow to cool then invert onto a wire rack to cool.
For the Ganache, Place the chocolate and cream in a heatproof bowl over a pan of simmering water. Once the chocolate has melted give the mixture a good stir to ensure it is well combined. Remove from the heat and add the butter, mixing until smooth. Allow to cool to room temperature before spreading over the brownie sponge.    Cut into squares and serve with some freshly whipped vanilla cream.
Be the first to add a review.