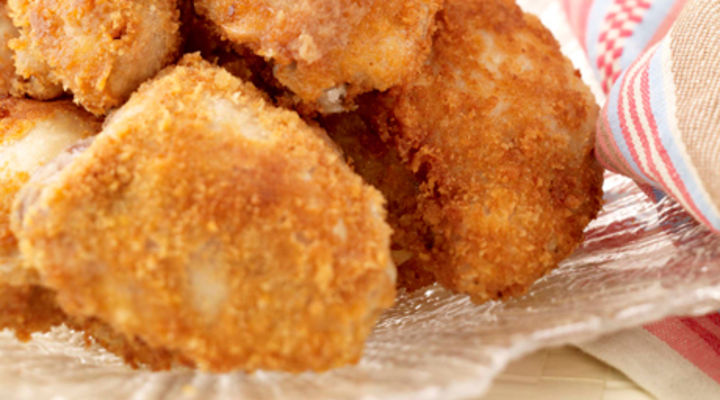 RECIPE OVERVIEW
Mouth watering chicken and chunky chips, this dish will have everyone reaching for seconds.
800

g

SuperValu Quality Irish Chicken Thighs

8

-

SuperValu Rooster Potatoes
From the Store Cupboard
1

tsp

Malt Vinegar

Optional)

200

g

SuperValu Fresh Breadcrumbs
Method
Preparation
To prepare the chicken thighs firstly place in a pan of boiling water and cook for 8 minutes.
Remove from the heat, strain and allow to cool.
Coating
To prepare the coating you'll need 3 bowls – in the first bowl mix together the breadcrumbs and cayenne pepper, in the second beat the eggs and in the third bowl add the flour and season with salt and pepper.
When cooled, press the chicken thighs in the flour mixture, remove and tap lightly to remove excess flour, then dip in the beaten egg, remove and drop into the breadcrumb mixture ensuring the chicken is well coated.
Set aside for cooking later.
Preheat the deep fat fryer 180°C/350°F.
Once the correct temperature has been reached, deep fry the coated chicken until the breadcrumbs are golden brown, this should take about 8–10 minutes, drain on kitchen paper and allow to rest whilst cooking the chips.
Wash and peel the potatoes, cutting the chips into thick chunks.
Place the chips in the chip pan basket and lower into heated oil (180°F/350°F), fry until golden and fluffy in the centre, approximately 10 minutes.
Serve the chips immediately with the Deep South chicken.
Season the chips as required with a sprinkle of salt and dash of vinegar.