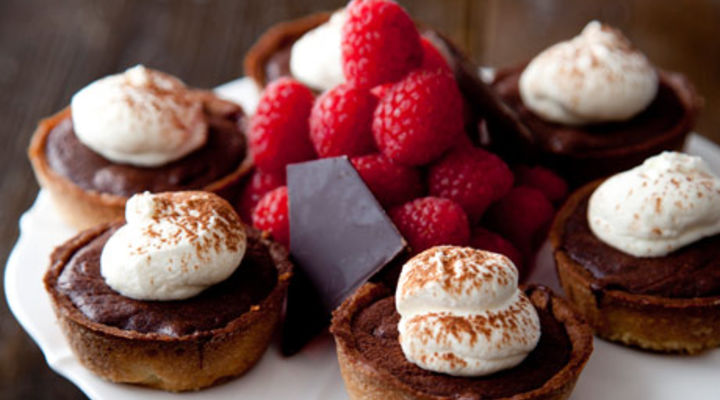 RECIPE OVERVIEW
A chocolate treat! The bitterness of the raspberries works wonderfully well with this dessert. You could also use a nice homemade marmalade.
150

g

SuperValu Icing Sugar
Method
First prepare the pastry. In a bowl cream together the butter and icing sugar until light and fluffy. Add in the eggs and sieve in the flour and bring the mixture together. Wrap in cling film and allow to rest for 15 minutes in the fridge.
Preheat the oven to 160°C/325/Gas Mark 3.
Roll out the pastry and line 12 -16 individual tartlet cases (we used 5 cm diameter individual tartlet tins). Arrange on a large baking tray and chill for at least 15 minutes to allow the pastry to rest.
Line the pastry with parchment paper filled with baking bean. Blind bake for 10–15 minutes until the pastry is cooked and slightly coloured. Remove from the oven and allow to chill slightly. Remove the tartlet from their cases and place on a baking tray. Spread the base of the tartlets with raspberry jam.
In the meantime, melt the butter & chocolate in a bowl over simmering water. In a second bowl, combine the caster sugar, eggs and egg yolks until frothy. Carefully fold in melted chocolate mixture until a nice chocolate sauce is achieved. Pour the mixture into the blind baked tartlet shells and bake at 150˚C/300F/Gas Mark 2 for about 10 -15 minutes - it should still be wobbly in the centre. Allow to cool for an hour or so and serve with cream
This dessert is best served still warm or at room temperature.
Be the first to add a review.