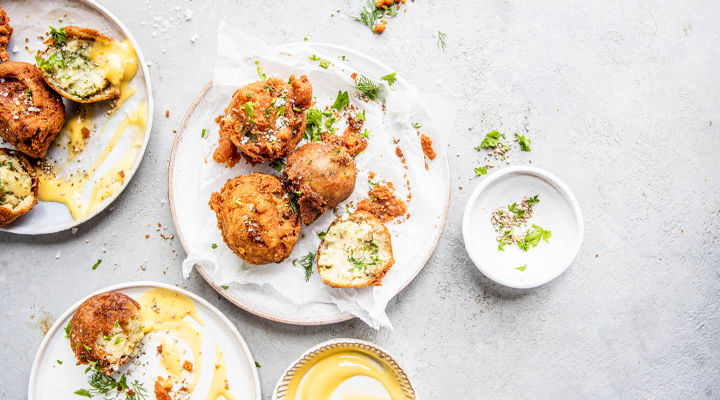 For the mayonnaise
1

pinch

Freshly Ground White Pepper
For the potato balls
1

tsp

Bicarbonate of Soda

1

tsp

Crushed White Pepper

1

handfull

Parsley

finely chopped
Method
Heat the butter and oil in a sauté pan over a low - medium heat. Add the onion and gently cook for 10 minutes until softened without colour.
In a large bowl, mix together the mashed potato, onion, parsley, dill, oregano and pepper and season well.
Divide this into 12 pieces, around golf ball size, then shape into balls and place on a tray lined with parchment, before popping into the freezer for at least an hour to set.
Next make the mayo; whisk the yolks with the vinegar and Dijon. Then, slowly pour in the oil, constantly whisking as you go, until fully incorporated. Season to taste.
Fill a large saucepan a third full with oil, heat over a medium/high heat. If you have a thermometer this should read 160˚C when it's hot enough to fry.
Whisk the flour, baking powder and bicarbonate of soda together, slowly whisk in the ale. Roll balls in the cornflour, then the batter and add directly to the oil.
Using two forks makes this process a little easier. Fry for 5 - 6 minutes
until golden.
Cook the balls in batches, adding too many will reduce the heat of the oil signifi cantly and they won't cook properly in the oil.
Once cooked, drain onto a kitchen paper-lined plate.
Serve with the mayonnaise and generous amounts of sea salt and vinegar.
Be the first to add a review.