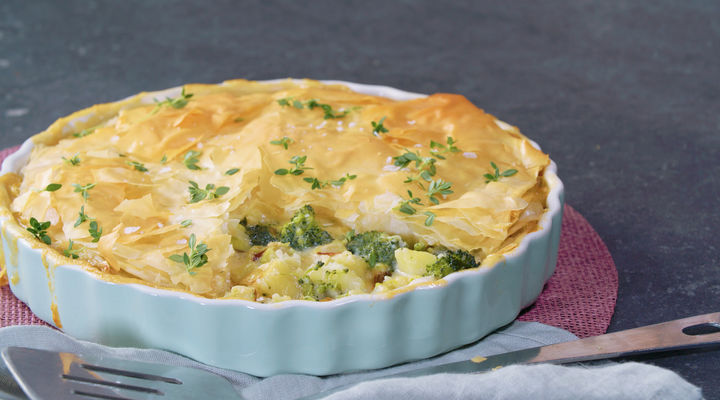 RECIPE OVERVIEW
No one can resist the golden flaky filo pastry in this comforting crowd pleasing creamy pie! We have added broccoli and peas to the filling hiding in a lovely creamy sauce, a great way to get some greens into the kids or any family member struggling to eat their greens
For the White Sauce:
1

-

Lemon

the juice and zest of half

1

pinch

Salt

season to taste
Method
You will need an ovenproof dish 30x22x5cm
Preheat oven to 180 degrees.
Remove the filo pastry from the freezer the night before you make this dish to defrost in the fridge.
Cut leeks in half lengthwise and then into slices, rinse well in a colander in the sink to remove any sediment, drain well, toss in 1 tsp of oil and a generous pinch of salt and roast in the oven for 15  minutes until soft and cooked through.
Cut the potatoes into bite size pieces and boil until they are just soft and cooked
Cut the broccoli into bite sized florets and boil along with the potatoes until just cooked through, this should take about 5 minutes, use a slotted spoon to remove from the pot of boiling water. Take care not to overcook and run under cold water to stop them cooking, set aside
For the white sauce - In a saucepan, heat the milk along with the herbs, salt and seasoning and bring to the boil. Reduce to a simmer and leave to simmer for a few mins for the flavours to infuse. The longer you leave to simmer the stronger the flavours will be. In another pot, add the olive oil and once hot, sieve in the flour and cook for 1-2 mins stirring continuously with a whisk until golden. Sieve the infused milk and slowly add to the roux (the flour and oil mixture) stirring continuously. Bring to the boil and leave reduce to a simmer being careful that nothing sticks to the bottom. Simmer until the sauce has reached the desired degree of thickness and remove from the heat
When the sauce is cooked, check for seasoning and mix in the potatoes, broccoli and leeks carefully, add the mixture to the ovenproof dish (roughly 30 x 22 x 5cm)
Time to add the filo pastry top to the pie, taking one sheet of pastry at a time, place a sheet of filo pastry on top of the pie dish and using a pastry brush, brush it generously with olive oil, repeat this process with all 4 sheets of pastry and tuck any excess pastry at the edges into the pie dish so it is sealed nicely.
Bake in the oven for 20 minutes or until the pastry is golden brown and the filling is cooked through and bubbling.
*Hint/Tip This versatile vegan white sauce can be made in batch cooking and  used in lots of dishes from Mac n' cheese to cauliflower cheese to a delicious creamy potato gratin. Such a great addition to Meat Free Mondays or any day of the week.