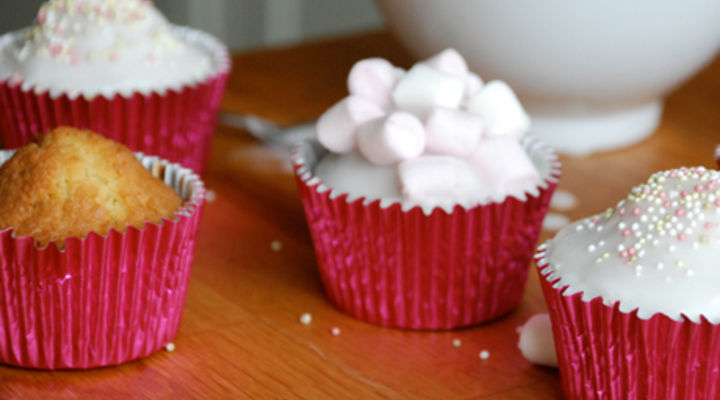 RECIPE OVERVIEW
A firm favourite all-round, these petite classic sponge cakes are perfect just to have on hand in the cake tin to go with a cuppa or great for childrens parties.
120

g

Self-Raising Flour

(1 cup)

4

oz

SuperValu Butter

( 4 oz or 1/4 lb block) softened

225

g

SuperValu Icing Sugar

(1 1/2 cups)

120

g

SuperValu Sugar

(1/2 cup)
Optional
0

-

Sweets or Hundreds and Thousands

to decorate
Method
Preheat your oven to 180°C (regular)/165°C (fan), gas mark 4.
Prepare your baking tray. If you are using a deep fill muffin tin, you will need 8 muffin liners. Or, if you are using a standard fairy cake size tin you will need 12 standard sized liners.
Into a large mixing bowl (or the bowl of a stand mixer) place your eggs, granulated sugar, softened butter, self raising flour and vanilla essence.
Using the whisk attachment of your hand blender or stand mixer, blend all the ingredients together. Remember to start on a very low speed so that the flour can become incorporated into the cake batter without being sprayed out of the bowl (and all over the room and bakers!)
Mix the cake batter just until it looks smooth and there are no lumps.
Divide the cake batter among the cake liners. I find that an ice-cream scoop is an easy way to do this, especially if there are little hands helping.
Place the tray into the oven in a central shelf and bake for 15 minutes.
Check to see if the cakes are cooked by pressing gently on the centre of the cakes. If they spring back up easily, then remove from the oven and place on a cooling tray. If they need some more time, place back in the oven and check after a further 2 minutes.
Icing:
Once cooled, mix your icing sugar with the water until it forms a smooth thick paste. Transfer a small blob of icing onto each cake and use a knife to spread the icing around.
Decorate as required with sweets while the icing is still wet to ensure the sweets stick.
Maryanne's Tip:
Using foil liners instead of paper ones will keep your cakes fresher for longer.
Be the first to add a review.