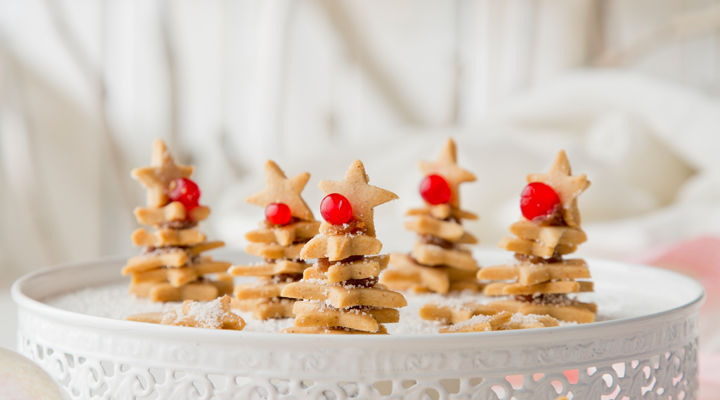 RECIPE OVERVIEW
Although there's no nutritional difference between refined sugars and natural sugars, you get more flavours from natural sugars like honey or fig syrup. This means you'll be satisfied for longer and eat less.
Method
Put the dates in a small heatproof bowl and pour in enough boiled water to just cover them. Set aside to soak and soften.
To make the cookies, beat the butter, honey and mixed spice together in an electric mixer until pale and creamy, then beat in the vanilla extract. Beat in the flour until well blended to give a soft dough. Shape it into a smooth ball, then roll it out between two sheets of parchment paper until it's about 3mm thick. Slide the whole thing onto a large baking sheet, keep it covered and refrigerate for 15 minutes.
Preheat the oven to 170°C/gas mark 3. Line two large baking sheets with non-stick baking paper. 
Using cookie cutters, stamp out 60 of each of the two sized stars, arranging them on the lined sheets as you go. Reroll the dough as necessary until it is all used up. 
Bake in the oven for 8 to 10 minutes, until the cookies are light golden. Remove and leave on the tray for a few minutes before transferring to a wire rack to cool completely.
Meanwhile, to make the filling, drain the dates and pop them into a mini blender with the nut butter and orange zest. Blend for a minute or so, until really smooth. The mixture should be a spreadable consistency. This can be made up to a few days in advance and kept covered in the fridge. 
Blitz the coconut to as fine a powder as possible. A high-speed blender is best for this, but a mini blender will work too.
To assemble, arrange 20 of the large stars on a serving platter or board. Spoon a raisin-sized piece of the date filling in the centre. Sit a large star on top of each one, staggering the points and pressing them down lightly. Repeat with another large star, then follow with two medium stars. Place a dot of the date filling on top of each one, then place the final medium star standing upright in it. Dust the fine coconut over, place a redcurrant berry beside the star on top and serve.
Be the first to add a review.