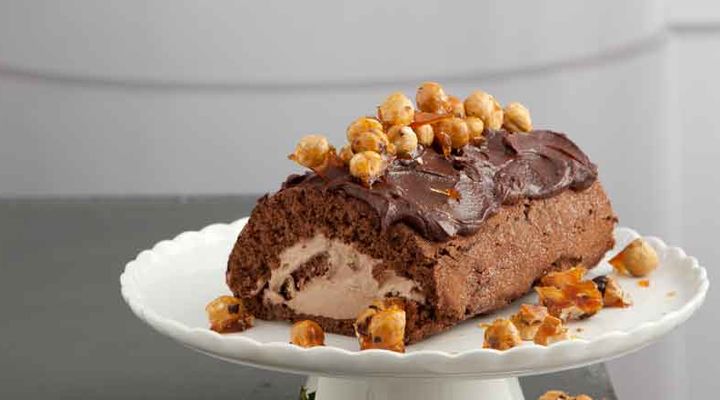 Method
Preheat the oven to 180˚C/gas mark 4. Grease and line a 33cm x 23cm Swiss roll tin with non-stick baking paper.
Beat the eggs with the sugar in a mixing bowl until the mixture becomes light and aerated. The whisk should leave a pronounced figure of 8 on the surface of the mixture when the whisk is lifted out of it.
Gently mix in the water and then the sifted flour and cocoa with a metal spoon. Be very gentle so as not to knock any of the air out of the sponge base, but still ensure that all the flour is incorporated.
Pour the batter into the prepared tin. Bake for 20 minutes, until well risen and golden brown.
Spread a large sheet of non-stick baking paper on the work surface, then sift a little cocoa powder over it. Flip the cake onto this sheet, then lift off the baking tray but leave the lining paper intact. Cover the cake with a clean dish towel and let it cool. The cloth and the lining paper will trap moisture as the cake cools, helping it stay soft and moist.
Meanwhile, to make the chocolate ganache, bring the cream to the boil in a saucepan, then remove immediately and stir in the dark chocolate, hazelnut spread and vanilla extract until smooth. Set aside until it has cooled but is still fairly liquid.
To make the topping, pour the cream into a bowl. Add the chocolate and hazelnut spread and whisk until it's very thick but not too stiff. Set aside.
When the cake has cooled, remove the towel, then carefully peel off the non-stick baking paper and trim about 1cm off each edge with a serrated knife. Spread the ganache filling over the cake, leaving a 1cm border clear, then roll it up. Use the paper to help make a tight roll. Cut 5cm or 6cm off one end at an angle.
Transfer the large piece to a serving plate, then nestle the shorter one against it to make a branch. Spread the chocolate ganache all over, adding plenty of texture with the knife. Chill for at least 1 hour or up to three days. Remove from the fridge 30 minutes before eating.
To make the hazelnut brittle, place the hazelnuts on a baking tray and toast in the oven for 5 minutes at 160°C/gas mark 3.
Place the caster sugar and water in a saucepan. Bring to the boil and simmer until it's a golden caramel. Remove from the heat and add the warm hazelnuts and butter. Pour onto a piece of non-stick baking paper and spread out the hot mixture with the back of a spoon.
Leave to cool, then scatter the hazelnuts over the chocolate cake.
Be the first to add a review.