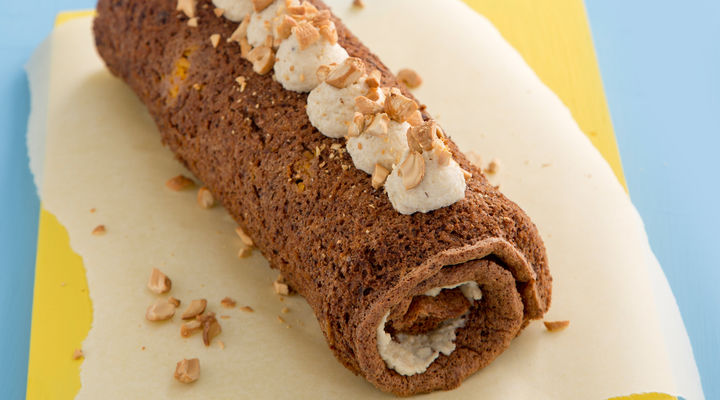 RECIPE OVERVIEW
This recipe is gluten free. You can buy oat flour ready made in SuperValu or you can blend oats, gluten free if necessary, in a high-speed blender to create a fine flour.
125

g

Caster Sugar

plus extra for sprinkling

4

-

Egg Noodles

large size

200

g

SuperValu Butternut Squash

peeled and finely grated
For the filling:
150

g

Oat Flour

(gluten free)
Method
1. First soak 125g of the cashew nuts for the filling in a bowl of cold water for 4 hours.
2. Preheat the oven to 180°C/gas mark 4.
3. Grease a 22cm x 32cm Swiss roll tray and line with non-stick baking paper.
4. Beat the caster sugar and eggs together in a large bowl with an electric whisk for 6 to 8 minutes, until the mixture has tripled in volume. Some mixture dripped from the beaters when lifted should hold its shape on the surface.
5. In a separate bowl, mix together the oat flour, cocoa powder and salt. Sift one-third of the dry ingredients into the egg mixture and add one-third of the butternut squash, gently folding them in with a large metal spoon. Repeat until all the dry ingredients and squash have been incorporated and are well blended.
6. Carefully pour the mixture into the prepared tin and gently level it out in an even layer. Bake in the oven for about 18 minutes.
7. Meanwhile, roughly chop the remaining 25g of cashew nuts. Put them on a tray and toast in the oven for 4 to 5 minutes, until golden. Once cooked, the cake should spring back when lightly pressed in the centre. Remove from the oven and carefully turn the cake out onto a wire rack. Peel off the paper and leave to cool completely. Carefully tip the cake back onto a sheet of baking paper.
8. To make the filling, drain the soaked nuts well and put in a food processor or high-speed blender with the milk, coconut oil and maple syrup. Blitz until as smooth as possible. Cover and
refrigerate until needed.
9. When ready to assemble, reserve about 75g of the filling, spooning it into a piping bag fitted with a 1.5cm plain nozzle. Spread the remainder in a thin layer all over the surface of
the Swiss roll. Roll it up, starting from one short edge and using the baking paper to begin lifting it. Place it seam side down on a serving plate. Pipe eight dots of the remaining cashew cream down the length of the top. Sprinkle the roasted cashew pieces over to stick, then serve.
Be the first to add a review.