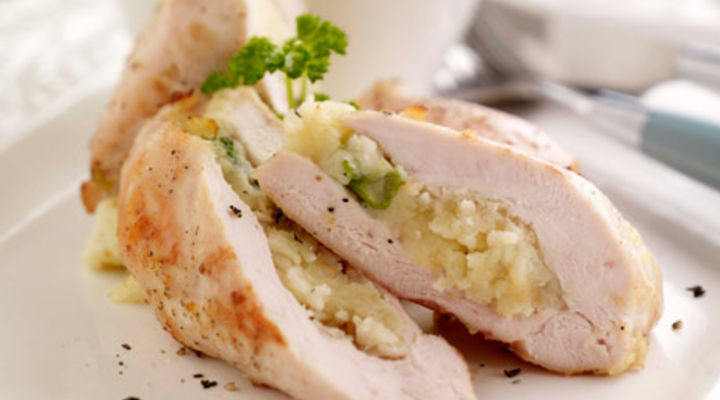 RECIPE OVERVIEW
The potato stuffing in this chicken works wonderfully with the chicken and it is so easy to prepare.
1

large

SuperValu Potatoes

2

-

SuperValu Quality Irish Chicken Fillets

From the Butcher Counter

2

stem

SuperValu Scallions

chopped finely
Crispy Tomato & Potato Wedges
1

-

SuperValu Onion

cut into wedges

2

large

SuperValu Rooster Potatoes

2

large

SuperValu Tomato

cut into wedges
From the Store Cupboard
1

tbsp

SuperValu Dried Mixed Herbs

1

large

SuperValu Fresh Breadcrumbs

2

cloves

SuperValu Garlic

chopped finely

1

tbsp

SuperValu Olive Oil

0

-

SuperValu Whole Black Peppercorns
Method
Peel one large potato, cut into chunks and put into a small saucepan of water and bring to the boil
Simmer until tender, strain off the water and mash well to ensure a smooth, lump free, consistency
Melt the butter in a medium sized saucepan, add in the garlic and spring onion and continue to cook for a minute or two.
Add in the breadcrumbs together with a little seasoning
Add in the mashed potato at this stage and mix well to ensure all ingredients are thoroughly combined. Allow the stuffing to cool completely before using it
Preheat the oven to 180°C/350°F/Gas Mark 4
Line a baking tray with a sheet of parchment paper
Butterfly the chicken by splitting them cross ways with a sharp knife to open them out like a book. This makes the chicken fillets appear bigger but also makes it easier to stuff
Add some of the stuffing into the chicken and fold over the flap again to return the chicken to it's original shape
Transfer the chicken to the prepared baking sheet and bake for 30-35 minutes
The juices of the chicken should run clear - use a sharp knife to make an incision in the centre of one of the chickens to ensure that the chicken is fully cooked through
Crispy Tomato & Potato Wedges
Mash some rooster potatoes and cut into chunky wedges
Drizzle with a small amount of oil and the mixed herbs together with a little salt and pepper
Mix them all together in a bowl and place on a baking tray lined with parchment
Place the wedges of tomatoes and onion on the tray also
Bake for 35-40 minutes until crispy and well cooked through to the centre
Be the first to add a review.