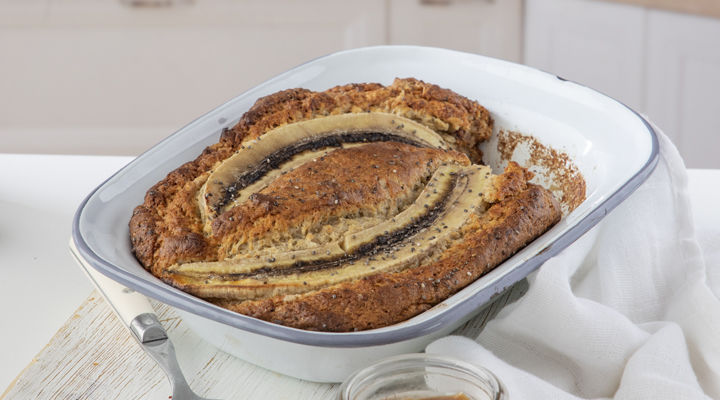 RECIPE OVERVIEW
This sweet brunch dessert is ideal for making in advance if you've got a hungry gang to feed in the morning.
1

tbsp

Apple Cider Vinegar

1

tsp

Bicarbonate of Soda

75

ml

Light Olive Oil

plus extra for greasing

2

tbsp

Supervalu Goodness Chia Seeds

plus extra to decorate
For the caramel sauce
0

-

SuperValu Signature Tastes Pink Himalayan Sea Salt
Method
Put the tin of coconut milk in the fridge to allow the cream on top to separate and harden.
Preheat the oven to 190°C/ gas mark 5. Grease a gratin dish with a little oil.
Soak the chia seeds in the warm water for 10 minutes.
Put the over-ripe bananas in a large bowl and mash with a fork, then stir in the soaked chia seeds, brown sugar, olive oil and apple cider vinegar. Add the flour, cinnamon, baking powder and bicarbonate of soda and mix well.
Pour the batter into the greased gratin dish. Slice the firm banana lengthways and place on top, then sprinkle with extra chia seeds. Bake in the oven for 30 minutes. Allow to cool a little before slicing or spooning from the dish.
To make the caramel sauce, take the coconut milk out of the fridge without shaking the tin. Scoop out the hardened thick cream and place it in a small saucepan with the brown sugar. Bring to a gentle boil and stir frequently for 20 to 25 minutes. Once thickened, take it off the heat and stir in two or three grinds of the Himalayan pink salt. The sauce will thicken as it cools. You can either use it straight away or store it in an airtight container in the fridge for up to one week.
Serve the banana bread with whipped coconut milk, coconut yogurt and a good drizzle of the caramel sauce.
Be the first to add a review.