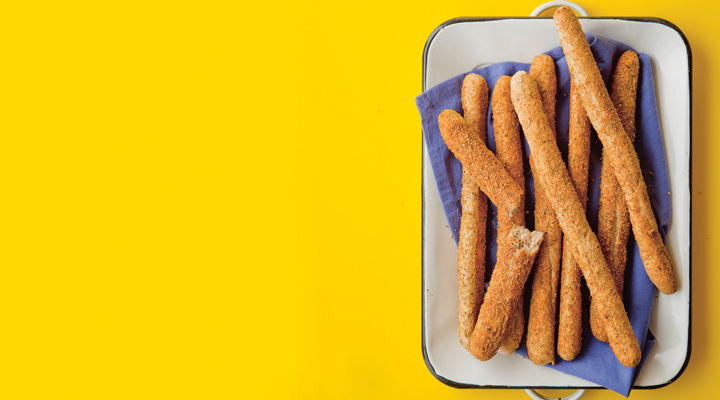 RECIPE OVERVIEW
The breadsticks will keep in an airtight container for four to five days. Alternatively, you can freeze the dough before baking it to have it on hand for busy weeks.
15

g

Dried Yeast

fast action

80

ml

Olive Oil

plus extra for greasing

100

g

Parmesan Cheese

grated

250

g

Strong Flour

plus extra for dusting

200

g

Strong Flour

wholemeal
Method
Combine the flours, yeast and salt in a large bowl. Add the warm water, olive oil and honey and mix with a wooden spoon to form a soft, springy dough.
Turn the dough out onto a lightly floured work surface and knead for 3 to 5 minutes, until smooth. Put the dough into a large oiled bowl and cover with cling film. Leave to prove for 1 hour in a warm, draught-free place, until the dough has doubled in size.
Preheat the oven to 200°C/gas mark 6. Lightly grease a baking sheet with oil.
Knock back the dough and briefly knead it again to bring it back into a ball, then divide the dough into eight equal portions. Roll the portions into balls, then place each ball on a lightly floured work surface and roll into a long sausage shape. Try to make each breadstick an even thickness and length.
Put the grated Parmesan cheese, oregano, rosemary and thyme in a food processor and pulse together until it has a crumbly consistency. Add the minced garlic and garlic powder and pulse briefly to combine. Tip out onto a large plate.
Pour the melted butter into a large, shallow baking dish. Roll the uncooked breadsticks first in the melted butter, then in the cheese and herb mixture.
Put the breadsticks on the greased baking sheet spaced about 5cm apart. Bake in the oven for 20 minutes, until golden brown. Leave to cool.
Be the first to add a review.