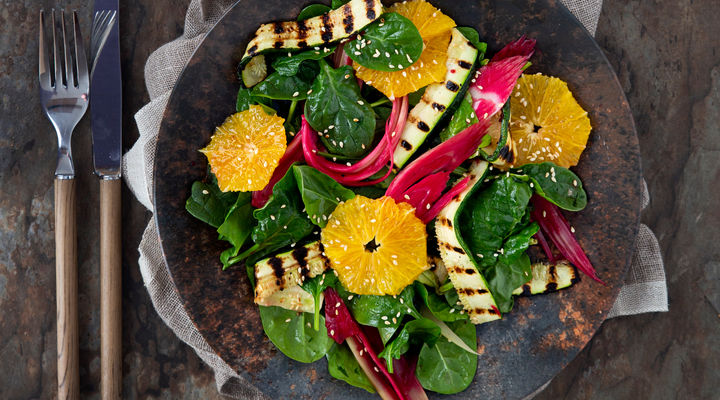 RECIPE OVERVIEW
Courgette is often the canvas for other flavours, but when charred, their sweetness really becomes accentuated. Pickling the fennel and beetroot in vinegar gives it a nice tang as well as a lovely pink hue. The toasted sesame salt adds an extra dimension.
1

-

Beetroot

small in size

2

-

Courgettes

medium in size, about 350g

200

g

SuperValu Baby Spinach
For pickling the liquid:
4

tbsp

Maple Syrup

or liquid sweetener of your choice
Method
1. Mix all the pickling liquid ingredients together in a bowl until the liquid sweetener and salt have fully dissolved. Peel the beetroot and cut into thin, rough slices. A mandolin works well for this. Place the fennel on its side. Starting at the base, slice it into thin rounds, trying to cut it as thin as possible. Add the fennel to the pickling liquid, then add the beetroot on top of the fennel. Set aside to pickle for 15 minutes, or longer if you have time. Meanwhile, cut the courgettes in half across the middle, then cut each half lengthways into four or five strips.
2. Heat 1 tablespoon of the oil in a griddle pan on a high heat. Working in batches, add the courgette strips and cook without moving them for 5 minutes to get a good char. Flip over and cook the other side for roughly 4 minutes. What is most important here is that the courgettes get some lovely griddled lines and that they start to express their wonderful sweet flavour. Remove from the pan and set aside to cool. Repeat until all the courgettes have been cooked.
3. While the courgettes are cooking, peel the orange. Turn the peeled orange on its side and cut into thin slices across the equator of the orange so that the rounds show all the inner segments. Keep any juice and reserve in a large mixing bowl that you'll use to dress the spinach in later on.
4. Toast the sesame seeds in a hot, dry nonstick pan for 5 to 8 minutes, until the seeds start to brown and pop slightly. Remove from the heat.
5. To make the sesame salt, put half of the toasted sesame seeds in a pestle and mortar with the salt and grind together.
6. Remove the beetroot and fennel from the pickling liquid and set aside. Keep the pickling liquid to use another time for pickling other veg or else use it for a dressing.
7. Put the baby spinach, the remaining tablespoon of oil and a pinch of salt in the bowl with the reserved orange juice. Toss
gently to coat all the leaves.
8. Divide the dressed spinach between four plates or bowls. Sprinkle over a generous pinch of sesame salt. Divide the charred courgettes, pickled beetroot and fennel and the orange slices between the four plates. Finish with some of the whole toasted sesame seeds scattered over the top and serve immediately.
Be the first to add a review.