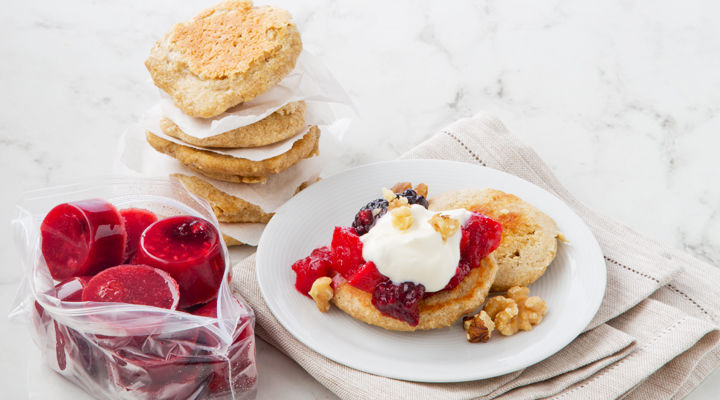 RECIPE OVERVIEW
Tasty pancakes served with a fruit compote, perfect for your weekend brunch.
Method
Put the apples, water and honey in a small saucepan set
over a medium heat. Simmer for about 10 minutes, stirring occasionally, until the apples have softened. Stir in the blackberries and cook for another 5 minutes, until the berries have softened and the liquid has reduced slightly.

Blitz the oats and cardamom seeds in a mini blender until the oats are finely milled into a flour. Tip into a large bowl and stir in the baking powder. Put the egg yolks, bananas and milk in the mini blender and blitz until smooth. Add this to the oats and mix until you form a smooth batter.

Whisk the egg whites in a separate large clean bowl until stiff peaks form, then gently fold into the pancake batter.

Heat the oil in a large non-stick frying pan set over a medium heat. Add three large spoonfuls of the batter to the pan to make three small pancakes. Cook for 4 to 5 minutes on each side, until risen and golden. Repeat with the remaining batter.

Serve the pancakes straight away topped with the compote, Greek yogurt and walnuts.

If you want to freeze the pancakes, allow them to cool, then freeze in individual portions in ziplock freezer bags, separated by a small piece of parchment paper. Pop in the toaster straight from the freezer for an easy breakfast. Freeze any leftover compote in an ice cube tray.
Be the first to add a review.