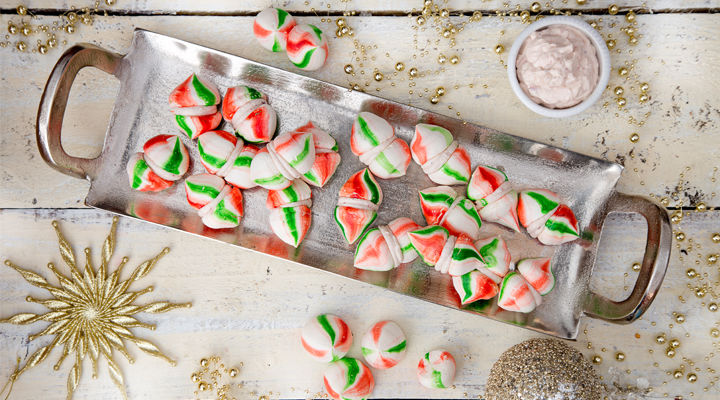 RECIPE OVERVIEW
These kisses are a great alternative to the usual meringue offering and are especially great for parties.
1

-

Fine Craft Paint Brush

4

drops

Red Gel Food Colouring

or green, or both

2

tbsp

SuperValu Signature Tastes Cranberry Sauce
You Will Need:
1

-

Disposable Piping Bag
Method
Preheat the oven to 180°C/gas mark 0.5. Line two large baking sheets with non-stick baking paper.
Put the egg whites in a food mixer and whisk until white and foamy. Add the cream of tartar and whisk again to form soft peaks. With the mixer still running, gradually add the sugar a bit at a time until each addition has been incorporated. Whisk for a few minutes, until really smooth and glossy and holding stiff peaks, then whisk in the ground cinnamon, Dot a little meringue under each corner of the baking paper to stick it to the trays.
Fir a 1.5cm plain nozzle into a disposable piping bag (or snip the opening hole to this size). Using a fine craft paint brush or the tip of a wooden skewer, 'pain' a few stripes of food colour down the length of the inside of the bag. Use one colour or alternate colours if preferred, using a clean brush or skewer for each colour in this case. Spoon enough meringue mixture just to fill the bag.
Point the bag directly downwards, holding it about 2cm from a tray. Gently squeeze a little of the mixture out to create a small round. While you stop squeezing, lift the bag up to create a peak. It should be about 4cm wide at the base and 4cm in height. Repeat to make 72 in total. It's best to prepare a fresh piping bag and coloured stripes each time you need a refill of meringue to ensure you get clean stripes on all the meringues.
Bake in the oven for about 1 hour 15 minutes, until completely crisp and dry and they lift cleanly off the paper. Turn the oven off, open the door slightly and leave the meringue kisses in the oven until completely cool. These can be made up to two days in advance if kept layered between parchment paper in an airtight container.
When ready to serve, beat the cream cheese in a medium bowl with the yogurt to loosen it until well blended. Blitz the cranberry sauce in a mini blender until smooth, then ripple it through the mixture to create a marbled effect.
Just before serving, dot a little of the cream cheese mixture on the base of one meringue. Press another base gently against it to sandwich the filling together and create a kiss. Repeat to make 36. Arrange on a large serving p latter or cake stand and serve at once.
Tip: You can use a star piping nozzle to create more textured kisses if liked.
Be the first to add a review.