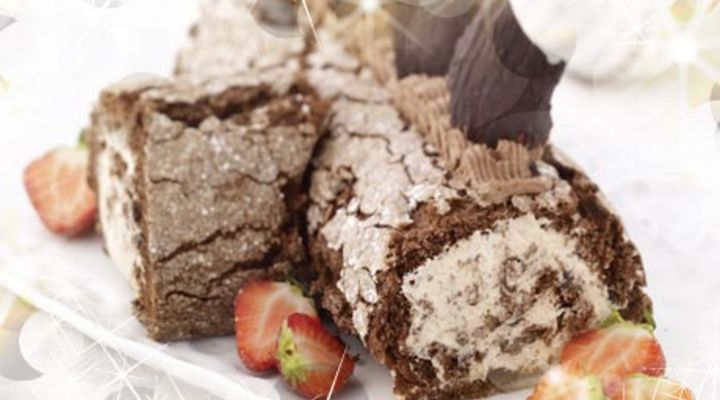 RECIPE OVERVIEW
If you are looking for a light Christmas Cake that is quick and easy to prepare, then this is the cake for you. This is a traditional French Christmas Cake, covered in chocolate butter icing. You could decorate with some holly or icing sugar for a more festive finish.
Butter Icing:
200

g

SuperValu Icing Sugar
Sponge:
1

tsp

Bicarbonate of Soda

50

g

Dark Chocolate

good quality

30

g

SuperValu Ground Almonds
Method
Preheat the oven to 200°C/400°F/Gas Mark 6.
Brush a 25 x 30cm baking tray or swiss roll pan with a little oil or melted butter.
Line the base and sides with some parchment paper.
Melt the chocolate in a heatproof bowl over a saucepan half filled with water (ensuring the water does not touch the base of the bowl).
Stir until smooth.
In a separate bowl beat the eggs and sugar until light and creamy.
Stir the water and bicarbonate soda into the melted chocolate.
Sift the flour into the eggs and stir in the ground almonds.
Pour in the chocolate mixture and stir to combine.
Pour the batter into the lined baking tray and bake for 10 minutes.
Place a layer of parchment paper larger than the baking tray onto a flat surface.
Invert the cake onto the parchment paper and trim any crispy edges.
Starting with the long side closest to you, and using the paper to help, roll up the cake.
Place seam side down on a wire rack to cool.
Meanwhile, to prepare the filling lightly whip the cream in a bowl, then add the mascarpone cream and chocolate spread and beat until smooth.
Unroll the cake and spread with the cream mixture then roll up again.
Prepare the butter icing by placing the ingredients in a bowl and whisking with an electric whisk until smooth.
It should be a lovely light brown colour.
Using a palate knife or piping bag, spread the butter icing over the cake and top with some chocolate shavings.
Place in the fridge until required.
Be the first to add a review.