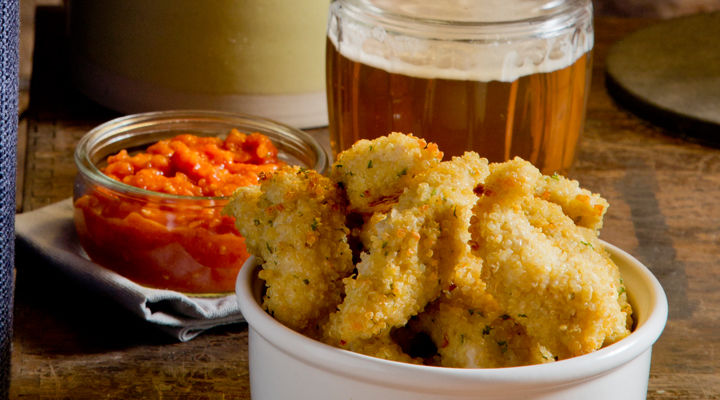 RECIPE OVERVIEW
Have your friends round and treat them to Bressie's tasty gulit free chicken nuggets.
Method
Preheat the oven to 200°C/gas mark 6. Line two large baking trays with non-stick baking paper.
Scatter the tomatoes on a large roasting tray, drizzle with 2 tablespoons of the oil and toss to coat. Roast in the oven for 10 to 15 minutes, until bubbling.
Put the ground almonds and eggs in two separate medium-sized bowls.
In a third bowl, toss together the quinoa, cheese, parsley and garlic powder. First dip the chicken in the ground almonds, shaking off any excess, followed by the egg and then coat in the quinoa mix, pressing to make it stick to the chicken.
Divide the chicken between two lined trays in a single layer. Drizzle with 2 tablespoons of oil and cook in the oven for 18 to 20 minutes, until golden and crispy.
While the chicken is cooking, put the remaining tablespoon of oil in a small pan set over a low to medium heat.
Add the onion and sauté for 6 to 8 minutes, until softened. Add the garlic and cook for 1 minute more. Add the roast tomatoes, water and tomato purée and simmer for 10 minutes. Season to taste and blend using a hand-held blender or mini blender.
Pour the tomato sauce into a small dish and serve the chicken nuggets alongside on a serving plate.
Tip:
Both elements of this dish can be prepared the day before. The chicken could be coated and left on a tray wrapped in cling flim in the fridge overnight. The tomato sauce can be served hot or cold and is delicious both ways.
Be the first to add a review.