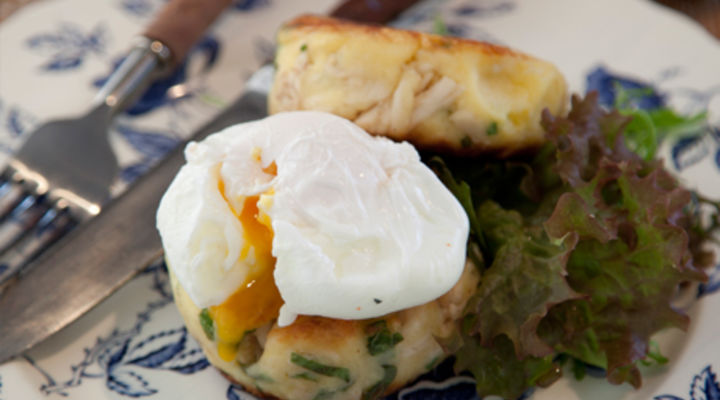 RECIPE OVERVIEW
Crispy on the outside, soft and buttery inside, these boxty-style potato cakes are delicious. Leftover chicken is used in this receipe, and though not strictly a boxty ingredient, it works really well.
100

g

Cooked SuperValu Chicken

shredded

25

g

Plain Flour

plus extra for dusting

1

tbsp

SuperValu Fresh Chives

finely chopped

1

tbsp

SuperValu Fresh Mint

finely chopped

2

tbsp

SuperValu Olive Oil

450

g

SuperValu Potatoes

peeled and cut into chunks

0

-

SuperValu Whole Black Peppercorns
Method
 Cover the potatoes with cold water in a pan and add a pinch of salt. Bring to the boil, then simmer for 15 to 20 minutes until completely tender when pierced with the tip of a sharp knife. Drain in a colander and return to the pan, then place over a low heat for a minute or two to remove any moisture. Remove from the heat, then crush in the pan using a potato masher.
Heat a knob of butter in a frying pan and add the chicken. Sauté for 2 to 3 minutes, until heated through. Place the mashed potato in a bowl, add the chicken, mint and chives and combine. Add the beaten egg yolk and sprinkle in the fl our. Season generously and mix until just combined. Divide the potato mixture into four. Using a 10cm cooking ring, shape into patties, dusting with fl our if necessary. Arrange on a fl at plate and cover loosely with cling fi lm. Chill for at least 1 hour or up to 24 hours is fine to firm up.
Heat the oil in a large heavy-based frying pan. Add a knob of butter. Once it has stopped foaming, add the potato cakes. Cook for 2 to 3 minutes on each side, until warmed through and golden brown.
To poach your eggs, fi ll a wide, deep pot with a 10cm depth of water. Add a splash of vinegar and some salt and bring to the boil over a medium to high heat. Reduce the heat to a gentle simmer, then stir the water to create a whirlpool. Break the eggs into the water as close to the whirlpool as possible and cook without stirring for 2 to 3 minutes if you like a semi-soft yolk, or 3 to 4 minutes for a fi rm yolk. Carefully skim off any foam that rises to the surface.
Remove the eggs from the pan with a slotted spoon and serve on the top of the boxty cake. Serve immediately.
Be the first to add a review.