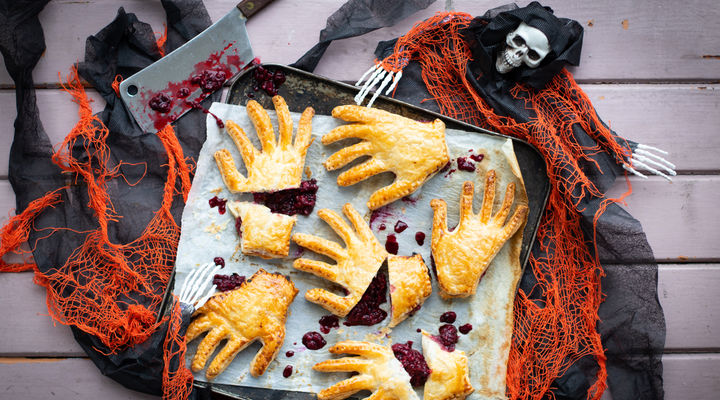 RECIPE OVERVIEW
These hand pies will add a gory element to any Halloween celebration. This is a fun recipe for kids to get into the kitchen and help make. It's important to use all the same size hands, either lefts or rights, so that they match up easily when paired.
640

g

Ready-to-roll Puff Pastry

125

g

SuperValu Blackberries

1

-

Supervalu Bramley Apples

about 250g, peeled, cored and diced
Method
YOU WILL NEED:
Template of a small hand, either drawn around a child's hand or from a computer printout
1. Place the apple, blackberries, honey, water and cinnamon in a small pan set over a medium heat and crush with a fork as the fruit begins to soften. Simmer for 3 to 4 minutes, until the mixture has softened and thickened. Remove and leave to cool completely.
2. Preheat the oven to 180°C/gas mark 4. Line a large baking sheet with non-stick baking paper.
3. Unroll the pastry sheets and use the template to cut out 12 hands. While it's not ideal to re-roll ready-made puff pastry because it toughens and shrinks more easily, it's better than wasting it, so re-roll the dough to give four more hand cut-outs for a total of 16 hands.
4. Using a rolling pin, roll gently over each hand to stretch them out a little. Arrange eight of the hands on the baking sheet and spoon about 15g of the fruit compote onto the palm of each of them. Brush the beaten egg around the filling and on the fingers. Place one of the remaining hands on top, pressing it down lightly. Use the tip of a fork to press all around the edges to secure in place. Don't worry if a little of the filling squirts out. Brush the tops with the remaining egg wash.
5. Bake in the oven for 18 to 20 minutes, until puffed, golden and cooked through. Remove and leave to cool slightly.
6. Using a sharp serrated knife, carefully cut each hand in half across the palm to reveal the filling. Delicious but gory looking, perfect for Halloween!
Be the first to add a review.