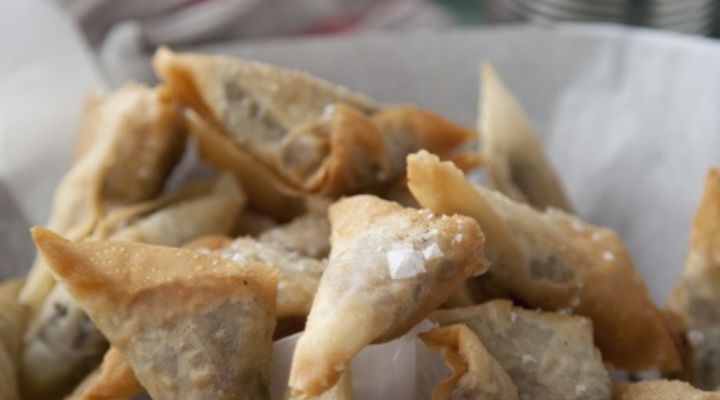 RECIPE OVERVIEW
These black pudding samosas are the perfect party food.
500

g

De Roiste Black Pudding

2

-

SuperValu Pears

peeled and diced into 2-3mm pieces
Method
Preheat the deep fat fryer to 190°C.
Remove the skin from the puddings and cut into slices 2-3mm thick.
Melt the butter in a pan, over a medium heat. Add the pear, cayenne and the caster sugar and cook for about 3 minutes until golden. Using a slotted spoon remove the pears from the pan onto a plate and set aside.
Trim the fi lo sheets to obtain rectangular lengths 10x30cm.
Combine the egg yolk and a teaspoon of millk for an egg-wash. Brush the edges of the sheet with a little egg wash. Place half a disc of pudding and a little of the cooked pear onto the bottom left triangle of the sheet and fold the triangle onto the immediate symmetrical triangle.
Repeat as necessary for the length of the pastry.
Brush the remaining pastry sides with egg wash and stick the samosas together.
Place the samosas in the deep fat fryer basket and lower into the preheated oil, cook for 3-4 minutes until coloured and crunchy. Serve immediately.