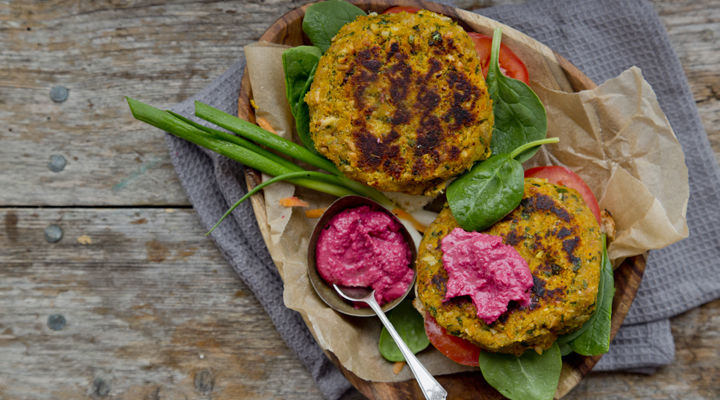 RECIPE OVERVIEW
These go super on their own or served with some homemade ketchup and tzatziki in a pita or flatbread.
550

g

SuperValu Butternut Squash

100

g

SuperValu Fresh Breadcrumbs

(we used 100% wholemeal spelt, use gluten free bread if ceoliac or bread of choice)

50

g

SuperValu Fresh Coriander

150

g

SuperValu Goodness Cashew Nuts
Method
Preheat the oven to 180 degrees.
Peel, deseed and chop the squash into bite-sized pieces and put in a baking tray mixed with 2 Tablespoons of olive oil. Also put in the 5 cloves of garlic with skins and the cashew nuts into the same baking tray, add ½ tsp of salt. Bake the cashew nuts for 10 mins and the squash and garlic for 25 mins at 180℃. (Leave the oven on once you finished, if you want to bake your burgers at the end instead of grilling).
While the squash is baking, drain and rinse the can of black beans until they are clean from suds. Transfer them into a large bowl together with the juice and the zest of the lemon.
Chop and add the coriander into the bowl.
Once the squash is soft, take the tray out of the oven. Peel the garlic and chop roughly. Chop the roasted cashew nuts to small pieces. Add the squash, garlic and cashew nuts into the same bowl with the rest of the ingredients along with 1/2 tsp of salt, black pepper and the ground cumin.
Use a potato masher to mash the ingredients in the bowl until the flavours are well mixed and marry together - this should take a few mins. (Alternatively you could use a food processor but the texture will end up very uniform and these burgers work out better with more texture and less blending).
Once mashed, roll into 6 burgers.
Grill for 5-10 mins on each side until firm or bake in the oven for a further 15 mins at 180℃.
Be the first to add a review.