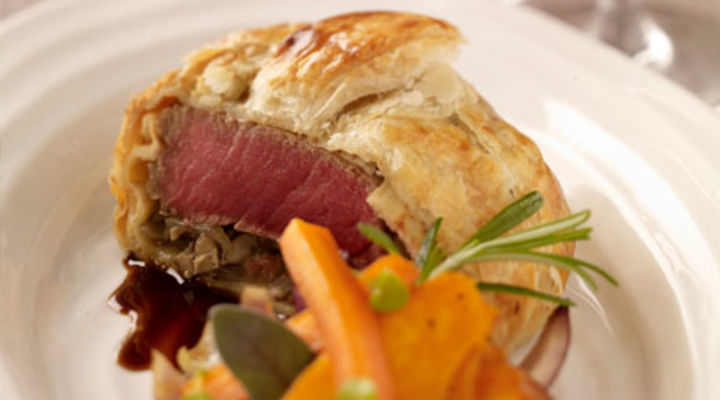 RECIPE OVERVIEW
This tradititonal, classic dish will be a show stopping centerpiece on any occassion!
1

packets

Puff Pastry

(defrosted naturally)

2

sprig

SuperValu Fresh Thyme

2

cloves

SuperValu Garlic

4

slice

SuperValu Parma Ham

or 4 thin crêpes

450

-

SuperValu Quality Irish Beef Fillet Steaks

75

g

SuperValu Signature Tastes Irish Mushroom Medley
Method
Finely chop the shallots, garlic and mushroom together.
Add in the chopped thyme.
Heat a large frying pan and add the butter and the mixture of mushrooms, garlic and shallots.
Cook this mixture for 4-5 minutes until all of the vegetables are softened. Allow this mixture to cool.
Meanwhile heat a large pan with a little oil and brown off the steaks on both sides.
Brown them very quickly but do not cook them, just give them a caramelised surface. Remove from the pan and allow to cool.
Preheat the oven to 200C/400F/Gas Mark 6.
Meanwhile roll out a square of puff pastry large enough to encase the meat and place one slice of parma ham or a thin crepe in the middle of the pastry.
Spoon ¼ of the mushroom duxelle (technical term!) on top of the parma ham/crêpe and then place one of the steaks on top of the mushroom mix.
Add a very thin slice of pate now.
Brush the sides of the pastry with some beaten egg yolk and encase it neatly like a little parcel.
Use some of the trimmings to create pretty designs on the outside of the Wellington.
Repeat this process with the three remaining steaks.
Brush all of the prepared Wellingtons with the beaten egg yolk and bake in the oven for 15-18 minutes or until the pastry is golden brown.
Once the pastry is golden test how the meat is cooking by inserting a skewer into the centre of the Wellington, leaving it for 15 seconds, then withdraw it. If the skewer is cold the meat is underdone, if warm the meat is rare and if hot the meat is well done.
Set aside to rest for 10 minutes and then slice into pieces and serve immediately.