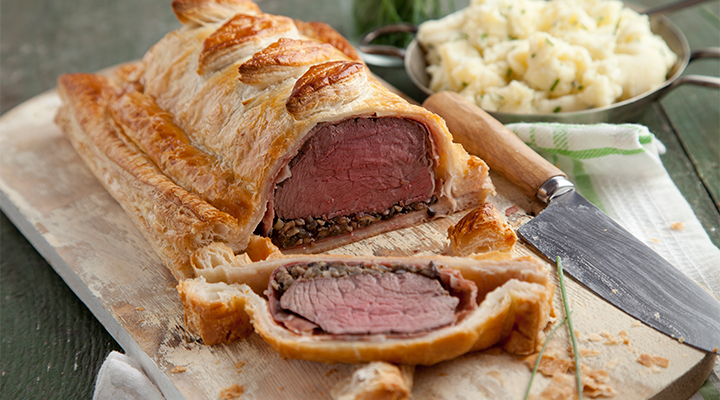 Method
1. Pre-heat a griddle pan to high heat rub the filet of beef with olive oil and place on the pan. Brown off  very quickly on all sides. Remove from the pan and allow to cool.
2. Heat a large frying pan and add the butter, then add the mushrooms, garlic, shallots, thyme and white wine . Cook this mixture for 4-5 minutes until all of the vegetables are softened. Allow this mixture to cool.
3. Preheat the oven to 200C/400F/Gas Mark 6.  Roll out the puff pastry to make 2 rectangle, ensuring one is slightly larger than the other for the top.  Brush the bottom rectangle sheet with egg wash then add the Parma ham.
4. Top with a layer of the mushroom and the browned beef fillet. Cover the beef with the second sheet of puff pastry.  Brush again the top of the pastry and seal the edges where both of the pastry meet to encase the beef perfectly. Place in the fridge for 10 minutes to rest.
5. In the meantime, bring to the boil a large pan of salted water with the potatoes. Cook for 15–20 minutes until soft to the point of a knife, then strain. In a small saucepan, heat the cream gently and add the butter, then pour over the potatoes. Mash the potatoes and season with a little salt and black pepper. Add the chives and incorporate thoroughly with a wooden spoon.
6. In a large saucepan, warm the oil and sauté over medium heat the shallots, carrots and bacon and cook until browned. Sprinkle the flour if using and cook for 2 more minutes then pour red wine and beef stock. Simmer for about 10 minutes.
7. Strain the sauce through a fine sieve and return to simmer until coating the back of a spoon.
8. Place the rested beef wellington in a preheated oven and bake for 20-23 minutes or until the pastry is golden brown.
9. In a third pan, bring salted water to the boil. Add the broccoli spears and blanch for 5 - 6 minutes. Drain and set aside. When the beef wellington is ready melt the butter until foaming and tip the broccoli spears, drizzle the honey and season with salt, pepper, and lemon zest. Sautee for 2 – 3 minutes on a low heat.
10. To test how the meat is cooked, insert a skewer into the centre of the Wellington, leaving it for 15 seconds, then removing it.  If the skewer is cold the meat is underdone, if warm the meat is rare and if hot the meat is well done. 
Serve all the elements on the table and carve the beef wellington at the table.
Be the first to add a review.